World Championship, Stockholm (Sweden), July 3, 2008
Some twenty years I regularly visit exhibitions worldwide. According to the organization of this grand show Swedes surpassed all: it is a timely confirmation of the registration of dogs, all is clear at the exhibition, where to go, what to look for. For the Russian participants, most of whom do not speak foreign languages, organized a separate registration with the Russian-speaking employees. On the huge rings more than enough space for a run on the carpet-slip walkways. Stunning rings were the main award – with musicians, concert, splendid lighting; solemnity of the event emphasized the whole festive atmosphere.
Helpers in rings Dobermans initially in accordance with the received instruction made stern faces on the double-handling, then calmed down and has never stopped anyone. No unnecessary pauses in the show ring did not occur. Everything worked like a well oiled machine. Fans had the opportunity to watch the show, sitting on the benches around the ring.
At least two of the three experts focus exclusively on dogs and seems to be no double-entry bookkeeping. Pezzano, of course, interfere with the work of his compatriot Corsini, and she occasionally came up to him and in front of the public consulted. Sverkhzadacha Pezzano easily view – in the working class brought clearly exhibited for the title Zordana Zevi del Chiton (Gino Gomez del Chiton x Dzhiada Di Conte Villa) – I think that Corsini here was no accident. But Dr. Pezzano fussed and fussed in this case, it is in vain: either on-site Corsini other, not necessarily Italian expert, Zordan could easily have won. I've heard a lot about him bad, but seeing it for the first time, was once again convinced, how unfair are rumors of outstanding dogs. Zordan – the embodiment of elegance and gentility, while he was a strong and courageous, athletic, but not rudely built, vysokoperedy, with excellent posture, excellent head, neck proudly planted. His croup, indeed, might be less inclined, but this defect is easily compensated by everything else. All titles of this exhibition he got: CACIB, BOB, Champion of the World
.

World Winner 2008
Zordan Zevi del Chiton
(Gino Gomez del Chiton x Dzhiada Villap Di Conte)

Urbano del Diamante Nero
(Victor Vito del Riobyanko x
Indiana del Diamante Nero)
With the same faulty croup in the open class won the German Hilo f. Nemesis, who won a major title on the eve of the exhibition at IDC. He lacks a little chest width and effectiveness rack.
In the Champion class struggle for supremacy broke out among the three main contenders. The leader was very impressive, despite the uncropped ears and tail are brown Swede Jean Dark Grabatstsi (Jean Dark Young's TSW L'Oreal) – absolutely typical descendant of Nestor Zoosfery – shirokotely, very dense, compact, with a strong proportional manly head. He was a reserve CACIB.

Jean Dark Grabatstsi
(Jean Dark Young's TSW Loreal)

Paco Ducker
(Baron Nike Reneval x Ornella de Grande Vinko)
Following him was a handsome Paco Ducker (Baron Nike Reneval x Ornella de Grande Vinko) with a perfect short top and expressive head accurate lines and proportions.
In third place is situated confident the world-famous Urbano del Diamante Nero (Victor Vito del Riobyanko x Indiana del Diamante Nero).
Concluded four prize class winner Modust Ost Wild Wind (Pluto de Grande Vinko x MO Gottin Gera).
A few more unexpected events occurred on the ring of adult females, where the examination is conducted Hussey Assenmaher. I would say that her style expertise is typical not only analytical but also emotional perception. She never changes the taste and sense of proportion, but enthusiastic attitude to the advantages of the dogs sometimes causes it to deviate from the balanced perception, I think. However, the examiner should not be cold machine or an accountant, dry counts all the cash.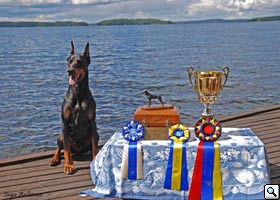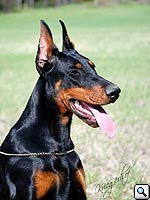 World Winner 2008
Smart Wood Hills Roma Raviol
(Livonias Baron Hero Hieronimus x Dea Dolores f. Alpha Nordic)
Dazzling Smart Wood Hills Roma Raviol (Livonias Baron Hero Hieronimus x Dea Dolores f. Alpha Nordic) fell in love with not only an expert but also all spectators. In class she was the unquestioned leader – the proud posture, excellent proportions. A long high set neck, strong withers, deep chest, a lovely expression of intelligent eyes, excellent angulation. The only small drawback – a little smallish tail set, well, that's if you really really find fault. That Roma Raviol H.Assenmaher to everyone's delight the audience named best female, and awarded her the title of World Champion.
Entered the intermediate class two alignment decent polish females Katja Ducker (Eria Pro Maestro x Ornella de Grande Vinko) – 2-th and Zarit Mirat (TSW Ellington Harry x Selemias Mirat) – 4th
. Smart looked feminine and energetic naiad of Slavnoi Pack (Pimm's Namber Ouen x Wembley from Slavnoi Pack) – 3rd
.
In this class I put the dog and may therefore not be too detailed saw winners, but it seemed to me that at least, at least, interesting dogs were among those not included in the balance.
I am referring to such famous Russian dogs as Santa Julf Isamar (Livonias Baron Ikos Immortal's Santa Julf Amazon) littermate Princess Black Pearl from Zoosfery and living in Sweden Pompadour de Poisson (Hieronimus x Orzhe Bolivia Banana). And if the second of which was clumsily presented its completely inexperienced Swedish mistress, the first shows qualitatively and bright.
No luck one of the most beautiful females ring TSW Ursula (Patos x TSW Beret) – it is clearly limping, and received a score of & lt; good & gt ;.
The expert has paid great attention to the movements of dogs, and I once again had the opportunity to see the foresight of some dog owners – champion IDC c it unimportant movements under Assenmaher not recorded
. The working class was in the lead capital, shirokotelaya, with a wonderful head, a long and slender neck, round forbrust somewhat short-legged Brava Barcelona from the blast Houses (Fedor del Nasi x Barcelona from home domain). Because many times I have watched the work Assenmaher in the ring, I was very surprised by her indifference to the violation of the basic proportions, but also to understand the expert can: it is very bright dog
!

Brava Barcelona from Home Domeni
(Fedor del Nasi x Barcelona House from the blast)

Damayanti of Zoosfery
(Master Of Max Dzharmati x BMW Bavaria)

Princess Black Pearl from Zoosfery
(Hieronymus x Orzhe Bolivia Banana)
I shook his complete beauty and harmony of brown Italian Raissariven Del Fiorsilva (Ferrofaragomez x Riven Of Tangenberg) took second place. Now, at the desk, I found in the exhibition catalog, that this is an amazing female IDC champion (probably 2007.) And therefore, as I understand it, it did not stand in the last IDC, but expected there to the world title. It did not work. In principle, it is well worth it.
In third place was our slim and regal Damayanti of Zoosfery (Master Of Max Dzharmati x BMW Bavaria). Unlike Dr. Pezzano German expert Assenmaher found no abnormalities in her line of cutting tools.
Entered into four beautiful and strong sister of the current vice-world champion Jean Dark Grabatstsi, Nestor granddaughter – Jean Dark Gossip
. Eve become winners IDC longish with unembossed musculature Silvanabrina del Fiorsilva (x Dzhinogomez Reni Of Tangenberg) and capital Teraline Dancing Queen (Ali Amadeus Piligrimas x Teraline Aurora) were rated & lt; excellent & gt ;.
Much to my chagrin was not included in the balance, and one of the brightest stars of the exhibition Irria del Mediano (Master Max's Kam Eze w Ar Baroness Cases) – vysokoperedaya, large, powerful, with a perfect line slightly elongated top, strong head, very nice neck and gorgeous breasts. She did not fully tightened nipples after whelp, and perhaps this was the reason for the decision to cantankerous judge condition.

Irria del Mediano
(Master Max's Kam Eze w Ar Baroness Cases)

Livonias Baroness Cassandra Kingsley
(Sant KREAL Rembrandt's Paola Penelope Piligrimas)
In the open class won already famous in the Baltic Livonias Baroness Cassandra Kingsley (Sant KREAL Rembrandt's Paola Penelope Piligrimas) – a powerful female with chiseled lines of an elegant silhouette. Here, she repeated her well-deserved success at the IDC. Immediately after it has passed the spectacular brown solid and stylish beauty with a magnificent head polka Ciara Elite House (Pimm, with x Yala from Glorious Stai). In Stockholm, I have not seen her, but IDC was glad when her classroom chose T.Bistrem.

Modus Ost Rocket Rush
(Livonias Baron Hitch Cock x MO Evva Eurydice)

Kabbalah of Zoosfery
(Hieronymus x BMW Bavaria)
I had very high hopes of winning the champion class of Kabbalah Zoosfery (Hieronimus x BMW Bavaria). It is very similar to its sister Roma ravioli, which is so highly rated by experts. Kabbalah is extremely compact, vysokopereda, one-piece, has a well-developed beautifully shaped breasts, the perfect top, including cereals. But I knew that Assenmaher prefers srednekrepkim dogs, appreciates underlined finesse. In this case, Rush Missile Defense (Livonias Baron Hitch Cock x MO Evva Eurydice) was our major competition. Moreover, it is a few days ago became the Champion of IDC – and it had a psychological significance. The victory went to Rocket Rush. In the final comparison she lost only Roma Raviol and became vice-champion of the world.
Kabbalah has received the second place in this very respectable class. Completing the quartet is already a brilliant exhibition with a rich history of Ukrainian mighty female Ferron of the Grand Duchy (Nitro's Gretchen), which is a couple of years ago Assenmaher awarded the title of Best of Breed at the European Championships.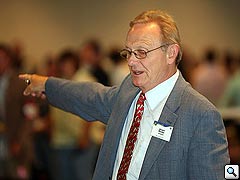 H.Yorgen
The most numerous were the junior classes. It is here assumed to be a whole new story. Huge classes judged none of dobermanistov unknown and far from IDC policy Danish expert H.Yorgen.
One of the strengths of dog schools in the world, many believe Baltic School – Norway, Sweden, Finland, Denmark. Many times I was convinced of the validity of that assessment. That methodical approach, a keen understanding of the overall exterior, absolute integrity – the distinctive features of this school. All of us, exhibitors realize that no policy will not be here. So it turned out. Manner of examination differed carefully inspect each dog, a detailed study of its exterior rack and movements. The judge made extensive use of the comparative method of assessment used to practice and the Russian school.
Assessing separately and meticulously each dog, an expert in the ring invite all & lt; otlichniki & gt; long and compared them with each other, gradually building up the entire ring – from the first to last place. Several times he drove around the ring a small subgroup of dogs, each time specifying their place in the overall arrangement. From these details we all long been weaned and perceive what is happening with great excitement and curiosity. The judging was very strict. Suffice it to say that both the young champion to IDC, male and female, not only were not included in the balance here, but did not get the highest score.
From 34 represented young dogs received 22 & lt; excellent & gt ;, 11 – & lt; Pts. chorus. & gt ;, 1 disqualified.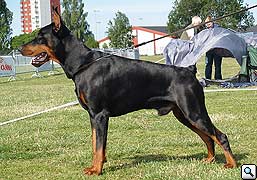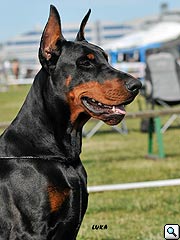 Sant KREAL Zvenislav (Urbano's UK Jewelery)
The first dogs in the class, who drew attention to the expert, was a tall, powerful, with a long and expressive head Sant KREAL Zvenislav (x Urbano SC Decoration). In the disposition of the judge immediately put it on the first place. Then, in the course of multiple comparisons in the rack and movements, he was moved to third place and ahead there were two too tall and beautiful dog.
The result was very first noticeable with beautiful top, long neck and head proper Maxim di Altobello (Icarus di Altobello x Darif Denise di Altobello).
Well folded and physically well developed Paradis Ronado Ultimatum (Paradis Ronado Space x Eria Freestyle Pro) came second. Bringing up four very breed of medium height with a beautiful head, long body too narrow and moderately developed withers Italo Dei Douai Intent (Patos x Undemai Villa di Castello).
Very close to the top four I was very young, very breed and harmonious, yet impressive enough shape PRIDE OF RUSSIA FERRO (Urbano's Sharon from Zoosfery).
Willing list and other Russian & lt; otlichniki & gt ;: Israphel Abe Atentator (Patos x Israphel Maya di Altobello) Pride of Rush Calypso (Pimm, with x Milena Bergen Amore) Sant KREAL Zeus (Urbano x SC Decoration) TSW Zippo (TSW Elisir x Pearl Chernozemya Genevieve).
Among females, juniors struggle for a place in the alignment took place more acute, since there were more exhibits and the quality of their higher.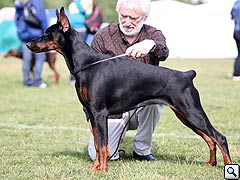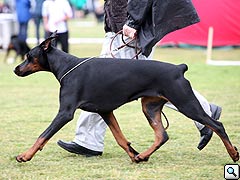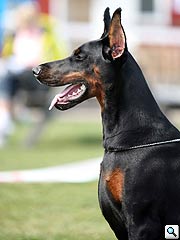 Thais from Zoosfery
(Nestor of Zoosfery x Electra from Zoosfery)
This ring once the first place has been proposed by Thais from Zoosfery (Nestor of Zoosfery x Electra from Zoosfery). When multiple permutations of all of the ring Thais never moved the first place, the expert does not hide his admiration for this dog and especially its movements. I showed it to the ring and was very nervous, because he was generally opposed her trip to Sweden: forty days before the show IDC she underwent surgery for a fracture of the tibia. What a show! Thais are not only ideal was, but powerful and easy to run. I am equally pleased about the won the title of Junior World Champion and her healthy leg.
Very strong competitor Thais ranked second – a large, bright, powerful with amazing head Beate di Altobello (Fedor del Nazi x Solda di Altobello). Immediately after it was attached from the same dog kennel Ellena di Altobello (Icarus di Altobello x Luna di Altobello). The fourth place was awarded TSW Mind (Patos's Beret), who lives in Finland.
In this class really were examined 47 young females (written over). Of these, 33 received the highest score, 10 – & lt; good 4 & gt ;, – & lt; good & gt;
.

Solveig from Zoosfery
(Euro Diesel from Zoosfery's phenomenon of Zoosfery)

PRIDE OF RUSSIA
Cassandra (Pimms x Milena Mon Amore)
Additional & lt; Otlichnitsa & gt; There were many Russian participants – MO Taormina (MO Aviator Ace x MO Galla Galaksis), PRIDE OF RUSSIA Cassandra (Pimm, with x Milena Mon Amore), PRIDE OF RUSSIA Chianti Classico (littermate previous), PRIDE OF RUSSIA Dolce Vita (Fedor x Barcelona from the House of the domain), PRIDE oF RUSSIA Dorothea (Fedor x Barcelona), PRIDE oF RUSSIA Ferenzi (Urbano's Sharon), Santa Julf Ibiza (Livonias Baron Ikos Immortal's CIO Amazon), Santa Julf Karelia (Tahi-Reme Gerett's CIO dey de Вита), rentgirls.ch СВХ Ультима (Патос х Берета), Solveig of Zoosfery (Euro Diesel iz Zoosfery x Phenomenon iz Zoosfery).
Mostly statistics Russian kennels, were exhibited at the world championships in five or more dogs.
| | | | | | |
| --- | --- | --- | --- | --- | --- |
| Kennel name | Number of items | < fine > | < och.hor > | < chorus > | Chap. title |
| Smart Wood Hills | 17 | 13 | 3 | 1 | 1 |
| Sant KREAL | 12 | 10 | 2 | | |
| Santa Julf | 7 | 7 | | | |
| Iz Zoosfery | 6 | 6 | | | 1 |
| Modus Ost | 5 | 5 | | | |
| PRIDE OF RUSSIA | 5 | 5 | | | |