WORLD CHAMPIONSHIP. Paris July 7, 2011
Judge:
        
Asesi Peinado Pascual (Spain, males),

        

Jouanchicot Christian (France, females)
In France, I drove with great caution, for fear of the famous "patriotism" of French judges (the day after the world chempionatea males as judged by the referee from France Seltz Halter Jeannette). Fortunately, the fears were not realized. French and at the World Championships and in the championship of France, held a day later, was judged clearly, accurately and in a highly methodical, the process in the technical sense was absolutely perfect. Rings were great – it certainly helps a good show dogs in motion, but very attentive to the movements of Christian Zhanshiko, which freed due to the expertise of top Dobermans neighboring ring expanded, and so rather large area, handlers are not spared, raced to complete breathlessness. But because I drove sensibly, not formally, and took into account the quality of the movement, it is one not to be angry.
Black males.
Dogs exhibited on the nearby ring. Spanish judge to pay less attention to the movements of dogs, but the detail fingering their Rack, palms determined by the parallel lines of the head and its proportions.
Pretty original was provided by the organizers of the examination procedure. First, intermediate class, and then open, working and champions, after examination – and puppies the juniors
. In the intermediate class of black males are few and not very strong composition, easily won the first place elegant and well-balanced in the rack medium-strong pedigree Yugoslav Appolon Ares f.Yareshtal (Mitt del Nasi x Tigris Levan f.Yareshtal), grandson Hieronymus, that I was especially pleased. Behind him was the ERP Saffron (Fedor del Nasi x Zoosfery of Sharon), is not very bright, but more correctly folded than we know of his brother in Moscow Sidor.
In the working class led Obi-Wan Kenobi de Grande Vinko (Leo f.Markishen Land's Hecate de GW) in a magnificent exhibition form shown in the English manner. I think he was one of the main contenders for the main title.
The second place was much the dried, that he really is, Teraline Midgard (Paco Ducker's Teraline Aurora). However, the thinner-looking and more harmoniously than in overloading, Midgard looked like a medium-strong dog.
| | | |
| --- | --- | --- |
| Appolon Ares f.Yareshtal | Obi-Wan Kenobi de Grande Vinko | Teraline Midgard |
listlessly and without temperament show our Efendi iz Zoosfery and such motifs as the style of the Spanish expert attention not paid. "Excellent" is placement.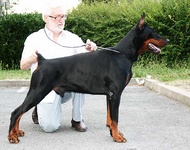 Efendi iz Zoosfery
In the champion class, and then in subsequent competitions, the Spanish judge opted portugalkomu favorite recent Great de Gipeuca (F'Hiram Abif Royal Bell x Ferry de Gipeuca) – very large, temperamental, with a proud posture, doubtful and croup unimportant movements.
| | |
| --- | --- |
| Great de Gipeuca | Maxim di Altobello |
Brilliant, could be better than ever, looked Maxim di Altobello. He almost lost weight, was shown without the usual excessive temperament (double ground handling in the ring is not allowed), giving it a highly expressive male dog extra generosity. Second place !!!
Excellent and looked better than the usual heavy shown compact enough manly Aquillon Dorian Den Diaz (Golden League Arthur x Aquillon Cherry), 3rd.
Junior class was large and of high quality. My favorite here was a luxury French dog, which I have highlighted before the ring and took a mental note – F'Willow-Pathos du Reflet de Songes (Pathos delle Querce Nerre x V'Ummanaq du Reflet de Songes), just krupnovat, proportioned with strong masculine head, excellent angles, excellent physical development without losing elegance. However, on this day he lost the junior title shown in a superb exhibition shape, but inferior, in my opinion, a Frenchman in the nobility, the shape of the head, shoulders and rump Wolfgang Winner de Grande Vinko (Quest Betelges x Hecate de Vinko of the Valley of Dalmeny).
| | |
| --- | --- |
| Wolfgang Winner de Grande Vinko | < br/> F'Willow-Pathos du Reflet de Songes |
The Moscow French Faberge Of Devil Inside (Mitt del Nasi x Russian coloring Tsar'a Bell), in spite of its density, is still looked edgy teenager, not an adult dog as his two main rivals – 3rd place
The four failed to enter a very elegant and large Yaroslav the Wise de Grande Vinko (Oro and de Plata GW's Odyssey de GV), which is still significantly lacking the depth of the chest and substance. Did not enter the top four and our Indiana Jones Zoosfery (Armani x Thais iz Zoosfery) as a fragile girl-handler was not able to keep a strong and powerful dog from canter around the ring.
| | |
| --- | --- |
| Faberge Of Devil Inside | Indiana Jones Zoosfery |
Brown males.
In the intermediate class, successfully struggled for the leadership of the Muscovite Daniel Zoosfery with a great body and well-painted.
| | |
| --- | --- |
| Daniel iz Zoosfery | Yuvengo iz Zoosfery |
In the open class in the first place (out of 6 dogs) fought two Russian male – elegant, dry, with a graphic quality silhouette sufficiently courageous Defense Udo William (Elsan Haus Aikido x MO Rush Rocket) and medium-sized, squarely built, vysokoperedy St. Petersburg courageous dog Yuvengo iz Zoosfery (x Teraline Indigo Isabelle iz Zoosfery). Unfortunately, at the critical moment he rvavnul comparisons from the handler to the hostess – the second place. (The next day Yuvengo bypassed not only Udo William, but also all the other brown favorites, including the amazing Grand Molis Armani, and was voted best brown dog exhibition, CAC).
At the world championships Armani was the first in the working class and was voted best brown male, got CAC and reserve CACIB, vice-world champion.
| | |
| --- | --- |
| Modus Ost Udo William | Grand Molis Armani |
In the class of brown Champions exhibited such great dogs as pore Caspian (Fedor's Euro-Dynamics iz Zoosfery) and Kontessina Cake (Tahi-Reme Gerret's Euro Dog Shangri La). Both were not included in the balance! Won in this class will not remember me Spanish male Flegon Cardoso's Dharma (Cral Cardos Dhama x Ester Cardoso's Dhama).
Suki
Intermediate class.
George Sand iz Zoosfery (Drive iz Zoosfery x Rachel iz Zoosfery) – dog samoigralnaya, she has managed to win a lot of experts, and not the last role in its continued success has not only a flawless silhouette, stylishness, but proud feminine posture. Apparently, the French EXPERT generally liked moderately strong and always elegant female. When you select a class winner, he did not hesitate. Moreover, placing the best four, almost did not look at George Sand as its place in the class identified quickly enough.
Despite belonging to a more severe type, its impeccable attracted the attention of the judges is very powerful and foldable with strong movements and relief muscles, beautiful and durable riding well and confidently shown mistress Light Muroma Scalea Eleteza (S'Lichobor Ermak x TSW Sicily ). It has become the second in the ring.
The next day, the Spanish judge its ban on double-Handling and even the use of treats by the handler at the show so poralizoval mistress rock (and not only it) that she just languidly held on to the lead and almost the dog did not show – lovely dog ​​was left without a place.
The third in the class passed a stylish, well-developed physically, vysokoperedaya with lightly Portuguese Livonias Baroness Melissa Messalina (Teraline Indigo's Livonias Baroness Infinity Fly), effectively shown its sports owner – he used to belong to Onyx iz Zoosfery. But the judge Zhanshiko probably noticed too narrow snout and rather weak chin Melissa, a small error in the structure of the croup (the next day, the Spanish judge gave her preference in choosing the best female).
In the open class entered our balance Greta Garbo iz Zoosfery (Bright iz Zoosfery x Yavvlenie iz Zoosfery) – 1st place and pore Philadelphia (Urbano del Diamante Nero x Sharon iz Zoosfery) – 4th place. Greta Garbo made a very strong impression on a number of French specialists were ill for her outside the ring and wished to purchase a puppy from her. Keeping the sporty appearance and composure, she visibly suffused strength and overall elasticity.
| | |
| --- | --- |
| Livonias Baroness Melissa Messalina | Sant KREAL Hennessey |
It seems to me that remains outside the four member ring were very good, including the UK Hennessey (SK SK Vivache Zeus x).
In the working class were taking the second, third and fourth place, three full sisters so I liked the French junior F'Willow-Pathos du Les Songes, well-built, but without raisins, distinguishing their brother. They walked for highlegged enough krepkokostnoy, feminine, fared Bobmastikhanza Ultimatum Ursoy (Falco f.Nemesis x Leib Solond Dia Bo Bambina).
In a class of champions completely ruled two completely unlike each other females of our kennel – chiselled, elegant, small, feminine Vivien iz Zoosfery and powerful, very krepkokostnaya, with a deep chest and a super-substance Eve Lot out Zoosfery. Inclined to give preference delights, the judge placed on top of Vivien Zoosfery (Maxim di Altobello x Kabbalah iz Zoosfery). In the final competition of black female, she became the first and won titles Reserve CACIB and Vice World Champion.
The capital of Lot's Eve Zoosfery (SWH Ellington Garry x Erin Zoosfery s) took the second place on the podium of class females champions. The next day, I was sure of her victory, because Vivian was exhibited in the working class and prevent Lothe could not. There it was, in the championship of France, I could not show it, because it was busy on another ring. She showed a great handler E.Barsukov Kiev, but, of course, in a different manner, unusual dog, she threw at him surprised looks and not opened completely. (Winning the Spaniard Hungarian female of an entirely different quality – O'Finity King of Darknees of Come as You Are Jared and Come as you are Vesta)
.
| | |
| --- | --- |
| Lot's Eve iz Zoosfery | O'Finity King of Darknees |
The third in the champion class was held on the first day of monumental folded Yugoslav Tijana Daria di Altobello (Bandit di Altobello x Lemira Shade di Altobello), which we have seen the last of "Eurasia".
In the junior class finished strongly effective, powerful silhouette with a beautifully contoured Eureka del Nasi (Zedor del Nasi Gloria del Nasi). Of the four Russian dogs came in, got the third place, elegant, slightly elongated format sufficiently filled waist and pointed muzzle Martha MO (MO Wild Wind's Torpedo Defense).
The illustrated without much skill the owner of Narnia iz Zoosfery (Schedule Line Suzdal's Isabel iz Zoosfery) was not included in the four, but the next day already with handler took the first place – it vysokoperedy beautiful body, pretty strong skeleton, deep chest and very long elegant neck.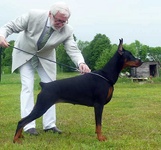 Narnia iz Zoosfery
brown females, I saw not all.
A good impression winner of the open class Zora Betelges (Pako Daker x Greta Betelges) c of Powerful feminine head and a fine rack mounted. In the same class I took 4 th place in the lives of Alma-Ata is very large, a little coarse and damp, but correctly folded Gem'Givvveeon Zarina (Fedor del Nasi x Gem'Givvveeon Queen of the Ring).
In the class-brown females champions immediately stood out from the little Italian artificially became authoritative in recent years, the nursery – Grace of Glory del Fiorsilva (Sancho Reny Gomez del Fiorsilva x Riven Tanderberg). This breed female with correct topline and good posture is not its appearance was stunning, but the expert did not want to deviate from the tradition of recent years and gave a major world title it is.
| | | |
| --- | --- | --- |
| Zora Betelges | Grace of Glory del Fiorsilva | Smart Wood Hills Daihatsu |
In the same class was included in the alignment of Smart Wood Hills Daihatsu (SWH Ellington Garry x TSW Glenmorangie) with an ideal body and proportions, dry and smooth, with a few slightly dropped nose. The Italian otstutsvie the next day she walked the rest of brown rivals and was recognized as the best female brown chempionatea France.
At the world championship and the championship of France plays an important role of Russian Dobermann. The greatest success fell to the lot of our pitominika "iz Zoosfery". Here are the results of the two examinations:
        

9 dogs exposed to the World Cup "iz Zoosfery". Among them first place in the class got 4 dogs, the second place – 2 "excellent" just got a dog H;

        

In the championship of France, we have shown 8 dogs. 1st "excellent" got 4 of them, the second "excellent" – 2 and a "great" – 2

.