History
Part 1 As all began (DOSAAF, MGOLS)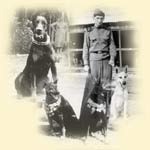 Though my father was a great dog lover and kept a bitch Elsa looking like a German Shepherd at home, I was more interested in wild animals in my boyhood days. I became friends with them in the society of young biologists of the Moscow Zoo, in the pet's corner of my school, station of young naturalists in Neskuchnyi sad (it was named Pioneer kolkhoz "Svetlyi put") and in biological club of the museum after Charles Darwin under the leadership of a famous teacher P. Smolin.
Now and then my home was inhabited by a fox, a wolf, a monkey, a bear and an erne, not to mention other, simpler animals.
more ...
Part 2 Society of animal lovers "Zoosfera"
I always wished to set up a true club free of bureaucratism, the club were Doberman lovers could feel at home, meet with their friends, handle important dog matters, share news, discuss the results of dog shows and trials and get an advice on upbringing and training of a puppy. We got a chance only when Mikhail S. Gorbachev came into power. Perestroika brought us new opportunities. It has cancelled meaningful constrains that prevented to establish new clubs.
Together with Remira I. Pushkarskaya we have registered the Society of Animal Lovers "Zoosfera". The club of dog fanciers was а part of different dog breeds worked as а part of this Society. "Zoosfera" was proposed to be a little "in" society. But soon it became very popular and grew into one of the largest dog-lovers' clubs in the country including more than 8 thousand members. more ...
Part 3 "IZ ZOOSFERY" KENNEL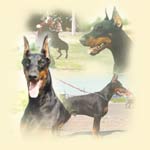 In 1996 I registered my FCI kennel "Iz Zoosfery" named in commemoration of our favorite club. Some members of our club organized their own kennels as well. We continued to make breeding combinations together for a while, but later some of my most experienced assistants and students started their own successful breeding programs and some stayed with me and joined "Iz Zoosfery" kennel. The work became more interesting as it involved smaller breeding stock and I got an opportunity for individual approach to every breeding combination. more ...