World Doberman Championship (IDC)
6-7 September 2003. Bratislava (Slovakia)
Experts: G. Vibliskhauzer (Germany), Karl Reisinger (Austria), P. Pezzano (Italy), F. Stribi (France), G. Schuler (Germany), G. Ridarchikova (Slovakia)
In 2003, the capital of Slovakia secluded turned into almost a world center for dog breeding. In late summer, there were two major CACIB-exhibition, in September – World Championship of Dobermans, in October – the European Championship. This boom is due, apparently, is not only convenient geographical position of Bratislava, but also an increased activity of the leaders of the local dog breeding.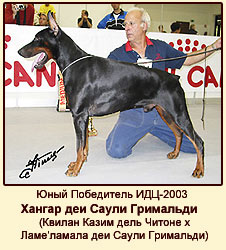 these are all important show took place on the territory of international exhibition Center "Incheba" with neat lawns and several connected with each other by glass pavilions.
Rings Specialized Dobermann Championship staged in the open air, close to each other, they were spacious and neat. In general, the organizational side of the special claims no objections, despite the fact that such an important exhibition clearly lacked the solemnity and chic. However, one director's discovery did happen. In the midst of the examination in the air suddenly turned up a heavy helicopter. To him two ropes are attached, on which hung trainers with sheepdogs. Long and noisy helicopter hovered over the heads of spectators discouraged and dogs and they acted on my nerves. Inflated wits glumly inquired: "And the tanks will go soon?"
The final balance of the best quartets of each class, the choice of champions and competitions in the final exhibition in an enclosed pavilion. Audience seats were located only on two sides. Dogs could be seen either from the head or from the tail. In profile, they can admire the only judge. At this stage, the dogs on the move is not checked, it was a very "hands on" some of the candidates for victory.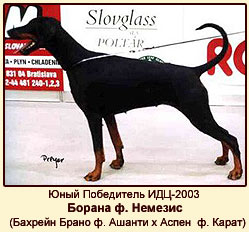 Of course, these facts confused fans. But the main problem for the majority of those present was the examination. From year to year the exhibition of the International Dobermann Club (IDC) is judged mainly leaders of the organization have their own idea of ​​what direction should develop a Doberman. The trouble is that the rest of the breed experts, enthusiasts and breeders are not able to capture the essence of these notions. Often IDC judges like some dogs, and trained fans, including judges, standing outside the ring – are quite different. The difference in the understanding of the breed among practitioners in the ring functionaries and those who mainly promotes rock increases with increasing apparent. Recent exhibitions IDC composed as it were of two parts – the formal and informal examinations. Are both of these components in the Euclidean parallels disjoint. Official examination has ceased to play a significant role in practical breeding species. Breeders do not expect tips from IDC experts and selected for their breeding is not necessarily the formal IDC exhibitions favorites.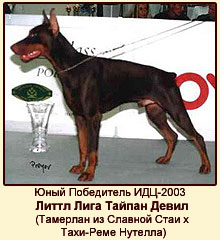 Home exhibition in the year Dobermans still remains fair brides and grooms. But the era when IDC champions automatically turned into the most popular manufacturers, over.
The main interest of the audience, as usual, focused on a class of black males champions, because this is where you can see the dogs that have passed a sieve of many exhibitions and had them success. In Bratislava, the group was very representative – 27 males. Many of them are very famous dogs – Italians Axel Casa di Ravasi, Baron Zhivago di Fortezza Vecchia, Nitro del Rio Bianco, the Russians Nestor iz Zoosfery, S'Lichobor Tigris, Smart Wood Hills Elisir … Absolute informal success fell to the lot of Nestor. He consistently for two days gathered around him a crowd of enthusiastic fans among connoisseurs, his endlessly photographed, demanded a copy of his pedigree have stunned by this increased attention Tamara Sapozhnikova, recorded him females for mating, etc. Nestor did not enter the top four winners. We were mentally prepared for it, and much of the audience was stunned.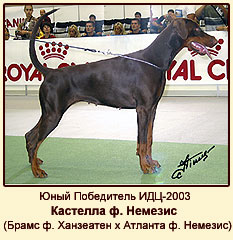 In this class exhibited the main favorite of the expert – Yugoslav male Jiminy Ginga House (Gino Gomez del Chiton x Jing Savages). According to some of his signs it is ready not only to be a leader in the classroom, but also to a major victory in the final contest of black males. Jiminy – marked dog with substance, a good balance in the rack. He has a beautiful head. Problems of this vibrant males make up the limb, especially the rear – with a noticeable Korovina, and quite unimportant motion, in which case "falls apart" on a separate article. Absolute integrity and Nestor strength represented for Jiminy unfavorable background. However, in the champion class, he prevailed. Second place tall and very elegant with uncropped ears and beautiful body line Dutchman Russian Dream Andor Absolute (Gino Gomez x Kayana Givone di Matar). The third option was a powerful expert, proportioned, with moderate angulation Fabius Pictor Reneval (Apollo f. Motta Visconti's Reneval cents), who lives in France. Concluded prize four of this class world champion Vero WH Vantaa (x Zhivago Contessa f.Frankenhorst Goldie). Compact, harmonious and slightly legkovat he was completely ignored expert IDC last year in Italy.
All went to the fact that IDC champion among black males will still Jiminy Ginga House, though his victory in the Champion class, to put it mildly, it was not approved by the public. But this option is not passed. Competition black male winners of the classes was the last. By this time the public has had time to heat up to the limit and show their disagreement with the experts already in full voice.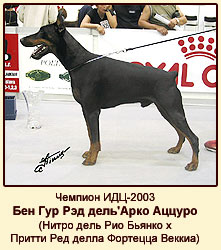 IDC Champion among black males was the winner of the working class, Ben Hur Red del'Arko Atstsuro (Nitro del Rio Bianco x Pretty Red della Fortezza Vecchia) – compact, physically well developed with a decent head strong riding and myagkovato metacarpus. This win Ben Hur confirmed the authority of his father as a manufacturer. Nitro has announced himself as one of the best producers today. In many classes at this exhibition with great success demonstrated his offspring. Russian debut Nitro in the field of breeding was not successful. Kennel "Irinland" could not get him any significant offspring. Based on this experience, some of our breeders hastened to put an end to Nitro. In vain.
In the working class together with the undisputed leader made other excellent dogs. However, in the balance, they have not got, giving way to the controversial, in my opinion, Sidor Campovalano di (di Falco Campovalano x Matisse di Casa Balestrieri) and Nathan de Grif (Ivan Vandor in. Shteyvinhage de Hula's neck). Notable members of class I would call Yugoslav Endor Royal Bell (Nitro's Zara Royal Bell), Russian males Modus Ost Freewind (Bombastik f.Hanzeaten x Kaprisskoko vd Roybehole), Piero Pepino Piligrimas (Victor's TAISS of Glorious Stai) , Teraline Admiral (Gino Gomez x of clubs Queen of the Pack Glorious), Ukrainian Adamant de Grande Vinko (Tiger of the Glorious Stai x Ak-Yar Andromeda).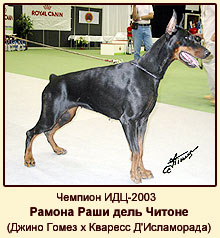 Black champion IDC named the winner of champion class Ramona Rashi del Chiton (Gino Gomez's Kvaress D'Islamorada) – chiselled with a spectacular posture, pryamovatymi shoulders and just satisfactory substance. By their physique she would have came to the court in the junior class. When there is a balance of the four prize class winner, all expect to see in the first place and feminine capital almost perfectly folded Paola Penelope Piligrimas (Victor di Casa Balestrieri's Taisiya of Glorious Stai). But it did not happen … It was the second and, therefore, was not able to fight for the later champion IDC title.
lost in the alignment of less powerful competitors from Geliana Zoosfery (Tamerlane from Glorious Stai x Smart Wood Hills Isadora). Dr. Pezzano, choosing the winners by the end of holding her in the ring. When there were only five participants from more than twenty, Geliana still fighting for a place. He summed up running with an inexperienced handler: Geliana suddenly went amble. This decided the outcome. But apart Geliana among females in this class Russians were able to fight for third and fourth positions: Irinland Zara Zefyu (Gino Gomez's Margot de Stan-sic), Leib Solond Bully Blaze (Satan di Latiano x A'Danikons La Rachelle), Smart Wood Hills Pilar (Shogun v.Rovelin x Smart Wood Hills Yuksi).
Because of the very large open class black females, only two of these favorites were able to break into the top four. First place went to a very nice Italian Fashion Farah di Campovalano (Gino Gomez's Fara di Campovalano) and Latvian dog Duchess Boriada But Demeter (S'Lichobor Phantom's Alora Arden image). Whole clip their real rivals German expert Gerhard Schuler, void sumnyashesya, sent out in the early stages of examination. Among them are the real stars: Az Kam Yu Ar Frey (Febo Fleming del Chiton x Az Kam Yu Ar Alabama) Shalima f.Hanzeaten (Zhivago's Kendra Novalis) Smart Wood Hills Lucia (Nestor's ravioli Zoosfery) …
For the first time in this exhibition I saw a brilliant Lemire di Campovalano (Falco di Campovalano x Rea di Campovalano) – complete embodiment of the perfect style – penciled vysokoperedy silhouette, adding density in absolute harmony with the sophistication, athletic posture, long high set neck, perfect angulation. She won first place in the working class and was, in my opinion, the main contender for the IDC title since Paola Penelope was not allowed to take first place in its class. But, as has been said, the coveted title went to another dog. In the working class as Lemire bypassed one of the main favorites of the Russian Teraline Aurora (Gino Gomez's Queen of clubs) – dense, spacious with a nice deep silhouette and well developed forechest. Of those not included in the balance more than any other I liked the Ukrainian Hakuna Matata de Grande Vinko (Tiger's Andromeda) – strong, with clear lines of the head, neck and slightly elongated body.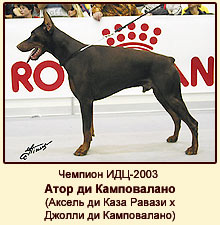 Judge to IDC, give preference to Ramona Rashi compensated kennel "di Campovalano" partial success in the "black" competition a few tight victory in the "brown". IDC champion under the "ah!" public recognized not the best representative illustrious nursery – Ator Campovalano di (Axel di Casa Ravazi x Jolly di Campovalano) – narrow, with excessively convex topline. At the final stage of comparison, he walked around not only their classmates (open class), but also the Champions class winner Modus Ost Aviator Asa more correct conformation. Together with coloring Aviator demonstrated Russian Arbat Aldo (Astor del Chiton Indira f.d.Roybehole x) with a more powerful breast, head long enough manly somewhat problematic croup and hind legs. In general, he looked impressive.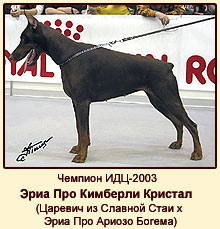 IDC champion among brown females was Russian Voronezh Eria Pro Kimberly Crystal (Glorious Prince of the Pack's Eria Pro Arioso Bohemia) – Okay, deep chest, good head. Whether there were her real rival? Undoubtedly. Very good winner working class Ardence Romeo's Juliet (Ardence Ardence Gauguin x Kuma) -zhenstvennaya, stout with a perfect balance of strong and correct head. But she did not have the proper type of exhibition: sparsely wool, worn on the feet. Underachieve made a perfect silhouette graphic quality, a long neck and an absolute balance in the rack Smart Wood Hills Italica. Yes, and in the class of champions Kimberly Crystal faced a very worthy opponents Rendsdorff Barcelona (Shogun's Rensdorff Amaridzh), Modus Ost Viroy VIRTUAL (Bombastik x Kaprisskoko) and a Hungarian Tahi-Reme Trinity (Victor x Tahi-Reme Ibiza).
Of course, we were happy for Kimberly Crystal and others have successfully passed the Russian dogs. Among the winners included littermates Irinland Eros Erato, Evita Eden (Zhivago's Xena Zefyu) – in puppy classes; Sant KREAL Princess Presto (Ardence Gauguin x Sant KREAL Tale) Sant KREAL Rembrandt Ruby and Rosa (Matador vd Roybehole Baroness Bravo x) – a class of younger juniors; Pimm'z Namber Van Punch and Paloma Picasso from the House of the domain (x Zhivago Mirakel vd Roybehole), Nikita iz Zoosfery (Tamerlane x Smart Wood Hills Isadora) – in junior class; Sant KREAL Zico (Matador's novel) in the open class, and others. But the part of Russian Dobermann was clearly underestimated. Among the winners was not quite a lot of star dog. It looks like IDC functionaries decided that the Russian breeders too Prytkov got down to business, and they should be a little hold. Perhaps a certain role was played by our Doberman Union of Russia, will make sure to make the discord between the IDC leadership and a number of domestic breeders.
The exhibition IDC this time pleased with good composition exhibits excellent young generation of Russian Dobermann and upset by a series of unintelligible assessments and constellations.
(This article was written for our "Dobermann Review" newspaper, but has not been published in connection with the discontinuation of this publication.)