WHERE THE PRODUCERS COME FROM: MELVAS-MURO FOM BIRKENHAYN
The nickname Melvas-Muro fom Birkenhain (1990-1999) was confusing for many. It was assumed that with the affectionate name of Mauritius he was named for his gentle character. In fact, he was not a charm at all, and received his unofficial name in honor of the desperately brave Latvian television observer Mavrik Wulfson, who, even before the liberalization of political life in the USSR, risky declared live: the Baltic was not liberated by the Soviet troops, but, on the contrary, occupied by them. Melvas-Muro was also bold, self-confident. The independence of his behavior, a slight dislike of outsiders and restrained, but deep love for his people was noted by all who came into contact with him. A male born in Switzerland showed these features already at the age of 2.5 months, when he landed in Sheremetyevo together with his broken sister Moroi-Mira. The pedigree of these dogs is maximally saturated with the blood of the most influential Dutch dobermann litter in the world. Within three generations, the phenomenal producer Vivre-Vivienne F. Frankenhorst twice appears here, and besides her – sister Vitesse and brother Vincent. When expert N. Anoshko persuaded the Swiss breeder Marianne Walker to give a couple of puppies from this most valuable litter to Russia, I lost sleep. Hands were found for the bitch right away. There were also enough people who wanted to buy Melvas-Muro, but I wanted to attach a more reliable male so urgently needed for Russian cynology. After all, we had previously planned to create his line. For the genetic support of the future line, his littermate was acquired, and a month later, their closest relative from the same nursery. S. Bocharov failed to save him. The puppy died very small.
I did not even think about myself, as o the owner of a Doberman: as soon as I headed the breeding of Dobermanns in Moscow in 1968, for ethical reasons I began to keep dogs of other breeds at home. But a suitable host for Melvas-Muro was not found. I spat on my own prejudices and kept the puppy for myself, especially since by this moment I had ceased to be an involuntary monopolist in breeding Dobermans – other clubs appeared in the capital. When Mauritius grew up, began to exhibit and knit bitches, reproaches could not be avoided. True, the topic of abuse of public cynological position is not too annoying. Still, most Dobermanists knew that for decades I worked with the breed exclusively on enthusiasm and, having acquired my own pedigree dog for the first time, I was unlikely to reconsider the attitude to the work to which I had devoted my life. The total victories of Mauritius at exhibitions organized by no means by my friends also forced opponents to restrain themselves. But attempts to discredit Mauritius itself were made desperate and absurd. There were rumors that he had hip dysplasia, that he gives puppies with white spots and even three-ears (?). Valeria Ivanova published a booklet slandering Mauritius. I've never read anything meaningless in my life. The persecution was artisanal and inconclusive. (But later, when y envious people appeared a printed organ, they danced in full squatting on Count Quinton, the successor to Melvas-Muro). But what did speculation mean when compared to the happiness that nine years had been given by Mauritius, unique in mind, delicacy, beauty and fidelity! How much does this fuss weigh compared to the place he took in domestic dog breeding? He not only raised the livestock to previously unheard of heights, but completely changed the view of most of our dog breeders on the breed. Masculinity without rudeness, elegance without refinement, head very expressive and dense, deep and wide muzzle, filled under the eyes, massive chin, muscular, well-set neck, very deep and wide chest, amazingly developed forbrust, balanced temperament, strong skeleton, bright tan – these are the characteristics that Melvas-Muro possessed and which he generously shared with his offspring.
He didn't have enough natural balance in the rack, possibly because of a slightly elongated lower back. But he learned to show himself correctly instantly. Dozens of experts evaluated it in the ring, including luminaries, and everyone noted a perfect balance. Not a single judge could escape from the magnetic influence of the dog's aura. The penetrating gaze of dark intelligent eyes imperiously attracted attention and insisted: "I am here first." On walks, the most indefatigable dogs — backwaters — as they approached Mauritius, lost their courage more and more, and in the end, pretending to be nearby, in a hurry to demonstrate a pose of subordination. Only in early youth did Mauritius initiate a fight a couple of times, but at the same time choose worthy opponents. As an adult, he passed raging males with such indifference that they were embarrassed and abated. Having lived most of his life with another clear leader, Earl Quinton, who is larger, heavier and more temperamental than Mauritius, he remained the leader until the last day. Earl Quinton's rare attempts to change status have failed. Mauritius continued to consider the five-year-old colossus, which caused panic in the remaining males, to be undergrown. The severity of Mauritius has never extended to bitches and puppies. No matter how rude to him Mo de Stan-Zu (Mushka), as well as Madonna, Countess Ulrika who occasionally lived y me. Nadia, Tirana and Lady Golden, they all were forgiven. It did not occur to Mushka to fit into a bowl of meat intended for Count Quiiton, but y Maurice, always more interested in food, she snatched the pieces from under her nose without any hesitation. Igor F. Mergenharten, who had grown up under Mauritius as a teenager, could jump onto his back or suddenly attack from behind while running with impunity. He treated indifferent people with indifference, but he stopped any familiarity with such a heavy look that instantly brought them into a tetanus state. As a defender, he was absolutely reliable and proved this in practice a couple of times. Nobody taught the dog this, except for two classes on protective and guard duty, which ended deplorably for the defendants. I never dreamed about the career of the Karatsupa border guard and did not keep dogs for the sake of protection, therefore, noticing that the male tastes good, I stopped developing anger. On numerous trips around the country and Europe, Maurice created a problem by meeting with people in uniform – customs officers, border guards, police officers. Their domineering voices and habits represented, in his opinion, a threat to me, but Mauritius was an obedient dog and I suppressed his dangerous intentions without a hitch. Mauritius possessed a delicate mental organization rare for a dog. Of the dogs I knew, perhaps only the Doberman Almaz, who had long died, could compare with him in this regard.
Mauritius was sensitive to the nuances of the behavior of people and animals, and was always especially attentive to my mood. Mutual respect was established between us immediately and forever, and I must admit that in those cases when this ideal balance was upset, I was guilty. Somehow we were returning in a bus from a foreign exhibition. Sitting next to me, Maurice looked overly interested in the cheese that the neighbor ate from behind. Tired and annoyed, I yanked him slightly. Unsuccessfully, using the same cheese, I tried to hush tactlessness. For more than two hours, Mauritius ignored not only me, but also the treat. My friend, an experienced dog handler V. Gubina, who watched this scene, admitted that she now believes in all the enthusiastic stories about Mauritius. It cannot be said that sentimentality was alien to him at all, but even it manifested itself in a manly form. Never bothering with his tongue, every morning, with the inevitability of fate, at exactly 7:20, he touched my cheek with a cold nose and woke him in vain. I did not give up this habit, despite my fierce resistance. He loved to quietly sit next to me in an embrace, but did not forget to pretend that he was simply meeting my wishes.
How scary Maurice was dying. At the next attack of suffocation (he had heart failure) he led me to a table with medicines and looked for help for a look. I took all medical procedures, even painful ones, with gratitude. He clearly felt better when I stroked him. Last nights he didn't go to bed, but stood y in my bed and looked into my eyes …
Melvas-Muro despised the fuss and did not share my passion for exhibitions. He treated them as a compulsory service. His show career was, if not dazzling, then very successful and stable. In Russia, he had no rivals, and the few cases when he still lost, they talk more about judges than about the quality of dogs. At the end of the existence of the Soviet Union, he became the last All-Union champion. He received the Champions of Russia and the Club effortlessly. Often and successfully performed at the Best-in-show and repeatedly won. Lovers of Dobermans guess that the biggest exhibitions for RKF are the most difficult for me and my dogs. However, Mauritius managed in 1993 to become the reserve winner of the Best-in-5how Eurasia. It was Melvas Muro who struck the window to Europe for the Russian Dobermans. I well remember the first reaction of the Western Dobermanists, representing a cohesive and somewhat snobbish clan, in which it is not easy for a beginner. Maurice and I looked at us very biasedly. They were surprised how far away Russia turned out to be a dog of this class, well-bred "in the snow", brought up and prepared for show. It was difficult for the judges to put the Russian dog in the first place. They were afraid to trust their own impressions and most likely made decisions based on the prevailing stereotype of a wary attitude to our country. In Finland, for example, where Melvasu-Muro had no equal, he exhibited four times under different judges. Always occupied the 2nd or 3rd place. The next year, the winner must have lost him in the ring. But there was another, also temporary. The conditional barrier was destroyed by the unbroken president of the International Doberman Club, Hans Wiblishauser, who in Mauritius in a very strong open class put Maurice in first place, assigned CAC and reserve CACiB. The very young then Melvas-Muro went around the mature, who had perfect conditions, Yugoslav Edi Royal Bell. But later, when Mauritius reached its peak, and the elderly Edie almost lost his exhibition form, in Moscow they exchanged places. By this time, Edie had changed his citizenship, he was brought to Russia by the President of the RKF.
Melvas Muro joined adulthood at the age of one. Cleopatra (owner Fedorovich) became his gang. The main advantage of this average bitch was the pedigree, in which Rochefort was twice marked. Litter with the prefix "Fevich" was a success. Out of 7 puppies, b became champions and winners; Esther, Evermore, Etsvard, Eliot, Edelweiss, Ingres were on everyone's lips. . In almost every litter from Mauritius, top-notch puppies appeared. Often at exhibitions in all classes his children were the leaders. The sons of Pankration Doberklan best Angel (owner Boychenko) and Julian Laregor (owner Muradyan), whose mother was Malta Est, the daughter of Castel, f. Schloss Grossau, did not know the competition among brown dogs. In general, the combination of Melvas-Muro – Castell has become a classic. From Castel's other daughter, Zelmira Lais, an amazing litter was born, dominated by Abel and Angela-Shera Amethyst. She, in turn, gave us Wilfred, who was the first Russian Doberman to defeat the open class of the World Cup in 1996. The brothers and sisters Waltran, Ungard, Winy, Wingrin, Genevieve and Jacqueline, who won the title of World Video Champion (1998), were not inferior to him in virtues.
Somewhat more modest were the results of connecting Mauritius with the uterus of the bris line, although the partners were good. The peak of the breeding achievements of Melvas-Muro was a litter from Ami (owner Goryainov), born in the unremarkable Yugoslav nursery "Cobra". I saw two of her littermates who legitimately received a "good" rating. But Ami Cobra is a very beautiful dog: high-ranking, with a strong withers, deep chest and a long feminine head with a strong chin. Random people brought her to Russia, and here her exhibition career did not happen suddenly. At the exhibition in Podolsk, where the expert managed to find 23 "excellent students" in the junior class, Ami was not among them. I was afraid that if the show was unsuccessful, they might not notice it in the future, so I took up it a bit and began to show it at all exhibitions. In adult classes, Ami, as a rule, won, losing only a couple of times to the daughters of Mauritius – Esther Fevich and Queen de Gore, who also brings her daughter. Littermates Quinn, Komtessa, Krata easily received CACIB at international exhibitions, while Cybele and their brothers Kriz, Kassius, Kil did not show abroad, but were successful in Russia.
The first Doberman interchampion in Russia was Queen de Gore. Litter from Ami Cobra and Melvas-Muro played a dominant role in the Russian breeding of Dobermans. The offspring of these children in Mauritius is an adornment of not only Russian but also European exhibitions. Ami's unforgivable mistake was to refuse to repeat the combination. Knitted her subsequently with three foreign-born dogs, but only from Earl Quinton were able to get champions comparable to her first-born. Apart from Amy Cobra y Mauritius, there were no high-class partners. None of the friends happy with his attention would have received the highest rating at a serious western exhibition. The Dutchman Van der Zwan, one of the best breeders in the world, investigated the situation and, calling Melvas-Muro "a great producer", intended to bind Countess Wanda v. Niirelands Stam, world champion. Unfortunately, this plan was not realized due to the death of a unique bitch. Finnish experts, on an exceptional basis, included Melvas-Muro in their list of manufacturers and successfully used it, despite the fact that he did not pass the tests required in this country. Finnish children finished with excellent results at the 1998 World Cup. M. Walker, having seen Mauritius as a teenager, was fascinated. Hoping to get a copy of her, she knitted Mushka Mariska v. Frankenhorst (his mother) three times with his father, Ibis v. Frankenhorst. In each litter, the best male received a nickname reminiscent of an older brother. I called them one of them. Himself Walker left his younger sister Raisa. "I loved Mavrik so much," she said, "that everything Russian has become sweet to me, including the name of the wife of President Gorbachev." Melvas-Muro left more than a thousand children, but now that he is gone, I say, without fear of accusations of mercenary advertising: the breeders too early refused to use this dog. They were chasing new nicknames and actually wrote off the great producer when he was only 5-6 years old.
One of the "experts", not noticing me nearby, discouraged the owner of a beautiful bitch from her mating with Mauritius. I quote: "This is yesterday." The deepest error. Melvas-Muro – tomorrow of domestic cynology. We will still collect bit by bit everything connected with it, so as not to dissolve the most important heritage. The prepotency of Melvas-Muro is so strong that it easily breaks through the generations of his descendants. Often, even hopeless producers gave excellent puppies with his daughters, granddaughters and great-granddaughters. I will list only a small part of his Moscow descendants and the reader will clearly imagine how much is left of an unforgettable dog.
I am proud of this list: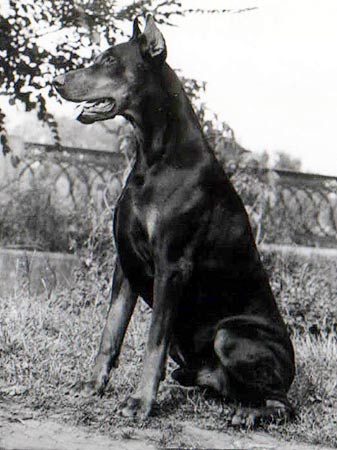 Pankration Doberklan Best Angel,
Evermore,
Esther Fevich,
Julian Laregor,
Chervona Ruta Nord Assia,
Queen, Krath, Cybele, Comtesse, Cassius, Kil de Gore,
Abel,
Angela-Sherry Amethyst,
Ornela,
Walter From Green Greenland,
Gellent,
Gdeches,
Yasson,
Jaromira,
Yamaha Silver Forest,
Berenice Euro Belhouse,
Adolf,
Agenor,
Abatissa Dasvorg,
Hart Verbena Kim.
Mels Meister Zyld;
Smart Wood Hills: Yusup, Utica, Yuksi, Yuola, Ecstasy, Tango, Tiberius, Tirana, Isadore, Inton Archie;
C 'Lichobor: Asterisk, Zord. Phantom, Fortunato, Franco, Fragola Ross, Lady Golden;
Selected: Namber Van. Nicole, Paulette, Palmyra;
Richirey,
Lotta of Silver Harbor,
Wilfred, Winnie, Ungard, Wingrin;
Velenberg Yulfil: Annushka, Bayan, Blanche, Guyana;
Manfred Air Tellus;
Iz Zoosfery: Dion, Raviol, Naomi, Nadia, Yaroslavna, Constance, Union, Unira, Jacqueline, Geneviea, Grace, Cepheus;
Irmnland: Belinda Blass, Brindisi;
Yuef de San Marine Ross,
Allhant: Nicephorus. Normandy, Caroline Beautyful.
Specialists from other cities of Russia, the Baltic states, Belarus, Ukraine, and Kyrgyzstan can greatly expand this list. Mauritius is gone. The line of the great Melvaca-Mypo fom Birkenhain remained.
Reprinted from the Doberman-Review newspaper