Society of animal lovers "Zoosfera"
I always wished to set up a true club free of bureaucratism, the club were Doberman lovers could feel at home, meet with their friends, handle important dog matters, share news, discuss the results of dog shows and trials and get an advice on upbringing and training of a puppy. We got a chance only when Mikhail S. Gorbachev came into power. Perestroika brought us new opportunities. It has cancelled meaningful constrains that prevented to establish new clubs.



     Together with Remira I. Pushkarskaya we have registered the Society of Animal Lovers "Zoosfera". The club of dog fanciers was а part of different dog breeds worked as а part of this Society. "Zoosfera" was proposed to be a little "in" society. But soon it became very popular and grew into one of the largest dog-lovers' clubs in the country including more than 8 thousand members.
     II was elected a person responsible for breeding at the meeting of Doberman lovers again.
Together with my pupils and assistants we actually created a collective kennel, began to visit dog shows abroad and examined the unknown western Doberman stock.
We arranged our own mono-breed dog shows annually. They had about 420 entries at that time. This popularity could be to some extent explained by participating in the shows of serious western breed specialists, such as M. Valker, G. Menke, G. v.d. Zwan, R. Boinekensen, K. Alen and others whom we invited to judge Dobermans. All the above helped us to define new problems. First of all we had to make drastic change of our Doberman type.
This type had been formed in the latest decades and was conditioned by the full isolation of Soviet selection and its artificial seclusion from the world. It was necessary to add our dogs general soundness as well as to develop the dogs with well developed lower jaws, correct croups and better color. It was necessary to involve foreign dogs with appropriate characteristics in our breeding. Our own experience, advises of the best western breeders and judges and becoming available by that time books written by European kynologists, primarily by Johan v.d. Zwan helped us to orientate ourselves properly.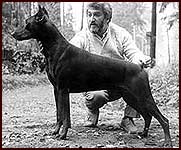 Ch. Kastell v. Schloss Grossau
     Unlike most of other collective kennels of that time we purchased puppies abroad very carefully. We used for our breeding the dogs and puppies that flooded spontaneously into Russia from different countries even more discretely. The imported at that time dogs not only failed to excel our own Dobermans, but stood even behind them. We ignored the import of this kind. At the end of 1980s – beginning of 1990s we managed to change the shape of a Doberman radically when some high quality dogs were bought in Switzerland, Holland, Austria, Germany and other countries. At the same time we began to send good bitches of "Zoosfera" for mating in Europe. Our first informed choice was the imported from Austria male Kastell v. Schloss Grossau, a grandson of a great Holland Doberman Don Dayan v. Frankenhorst and a great grandson of Moscow-born male Gobi. Kastell was not big, well boned, tight-skinned male with strong independent character. He was moderately used as a sire but produced several bitches of very high quality.

Briz did not expose at shows
and he had no estimations and titles

Efes Guy – Briz's son

Orianna Lingv Zolgiv –
Briz's daughter

Chandra Frans – Briz's daughter
     Brought from France Briz (a son of Saruman de Landris) was a very beautiful male of excellent substance and good color. Despite his faults he introduced serious corrections into our stock.

Ch. Melvas Muro v. Birckenhain

Ch. Ami Cobra
with her first litter
by Melvas Muro

Winfred's mother
Ch. Anzhela Sheri Ametist-
one of the best daughters
of Melvas Muro

Winfred-
the first Russian dobermann,
ther winner of a class
in the World Championship
     My Switzerland-born Melvas Muro v. Birckenhain (home name – Mavrik) was widely used as a producer. His stud success was actually guaranteed by his unique pedigree that contained a great dam Vivre Vivien v. Franckenhorst twice as well as her sister Vitess and brother Vincent. We took Mavrik as a potential founder of a new breed line and strived to use him in various breeding combinations. This principle helped us to avoid undesirable parallel inbreeding for his descendents and dam-mates.

Ch. Mora Mira v. Birckenhain

Ch. Yuta Debora Play-
Mora Mira's daughter

Mora Mira's grand daughter-
multi-Ch., Eur Ch. Zolotaya Dinastiya Susanna
     Melvas Muro had no competitors in influencing the domestic stock in his days and even later. The first Russian winners in World dog-shows and IDC were his descendents: Chervona Ruta, Winfred and Krata de Gor. Together with Melvas Muro his sisterMora Mira came to Zoosfera. Unfortunately she whelped only one litter by Finnish male Kliniks Ezlo. This inbred for Fela v. Franckenhorst combination gave excellent Dobermans including an IDC prizewinner Yuta Debora Play – mother of a beauty and our first European Champion Susanna.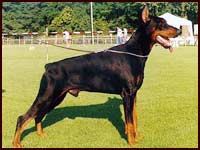 Multi-Ch.
Graaf Quinton Van Neerlands Stam
     In 1994 I bought my wonderful puppy Graaf Quinton Van Neerlands Stam in Holland. His show and stud career was brilliant. He was a European Champion twice: in Denmark and in Austria, VDH Vice-Champion in Germany, IDC prizewinner, Champion of more than 10 countries. He was officially recognized The Best Dog of the Decade among the best dogs of all the breeds in Russia. His progeny was enormous and very important not only for our kennel but for Russian Doberman stock on the whole.
     Yugoslavian bitch Ami Cobra was mated in Zoosfera three times. Her first litter by Melvas Muro got a prefix "de Gor". This pair had produced an outstanding litter that influenced further forming of the breed in our country and abroad. The names of these dogs are well known to the specialists: Krata, Kwin, Kibela, Komtess and Kassius de Gor. Krata's grandson – S'Lichobor Fantom became one of the first Russian IDC champions.
     Excellent Dobermans including Lukas, Leroy and Legenda were born  

The first Russian dobermann
received title of Int Ch.
Kwin de Gor

Ch.
prize-winner IDC
Krata de Gor

Multi-Ch
IDC-Sieger
S'Lichobor Fantom
in the second litter of Ami Cobra (by Graaf Quinton). E. Kruglova purchased Legenda and with her help famed her remarkable kennel "Sant Kreal". Legenda proved to be wonderful dam and produced a lot of excellent dogs including Young Champion Sant-Kreal Nivago who played an important role in developing of our kennel.
     The club "Zoosfera" had started its activities long before Russia entered the FCI. We did not use any steady kennel prefix during almost the whole period of existence of the club. The exception was made for several litters of Kwin and Krata de Gor.

Multi-winner CACIB-Shows
Ch. Leroy

Well-known dam
Ch. Legenda
  We proposed that their descendants could be successful at international dog shows and registered their pedigrees with "Smart Wood Hills" and "S'Lichobor" prefix in Estonia that was an FCI member. The prefix "Iz Zoosfery" was registered a bit later, when Russia entered the FCI. At that time these prefixes were independent just formally as we worked together.
Later these kennels began to work independently and the prefixes were actually assigned to Y. Yakovlev ("Smart Wood Hills"), I. Sivtsova ("S'Lichobor") and myself ("Iz Zoosfery").