1 As all began (DOSAAF, MGOLS)

E. Rozenberg
with his first dobermann
Kim-Chuk, born 1961

The young lion becomes angry
    Though my father was a great dog lover and kept a bitch Elsa looking like a German Shepherd at home, I was more interested in wild animals in my boyhood days. I became friends with them in the society of young biologists of the Moscow Zoo, in the pet's corner of my school, station of young naturalists in Neskuchnyi sad (it was named Pioneer kolkhoz "Svetlyi put") and in biological club of the museum after Charles Darwin under the leadership of a famous teacher P. Smolin.
     Now and then my home was inhabited by a fox, a wolf, a monkey, a bear and an erne, not to mention other, simpler animals.
     Getting high on dog training I purchased my first own dog – Dobermann Kim-Chuk. This born in 1961 dog was big, strong and easily trained. Beginning from 1962 we regularly participated in OKD (General training course), ZKS (Protecting-Guard course) and ski-joring competitions. Kim-Chuk often became the winner of serious competitions.
     My interest to the breed has been noticed and I was elected a member of the Bureau of Dobermann-lovers department of the Moscow Club of working dogs of DOSAAF ("Public Society of Assistance to the Army and Navy").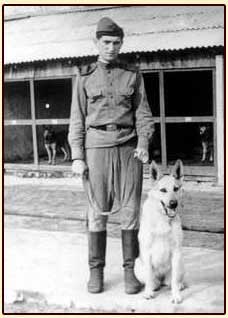 E. Rozenberg, 1965
First I was responsible for dog training and then got high on breeding activities. In 1963 I passed through appropriate examinations and traineeships and became a working-dog and show-dog judge. I dealt with training for a long time before, working as an instructor at the training field "Peschanaya", preparing guide-dogs in the training-school, working with dogs for three years in the Army and then, taking my discharge – as a head of departmental kennel that prepared dogs for guard service. I trained dogs privately for several decades as well. I also continued to be a working-dog judge being the Chief Judge at All-Soviet Union competitions, judging working trials and judging dogs at conformation shows almost in all the Soviet republics.
     The notion "breeder" seemed to be forgotten by that time. Mating was planned not by the owners of bitches but by special breeding committees. The starting point of my selection work was the end of 1962 when the breeding committee adopted my mating combination of Dobermanns Almaz and Vesta who later became Champions of Moscow and of the USSR. I consider this date to be the beginning of the kennel's "Iz Zoosfery" activities though its name appeared many years later, after Russia had entered the FCI.
     Vesta whelped her puppies on February 23, 1963. Soon their names – Arthur, Arna and Arma became famous. These Dobermanns were highly appreciated by specialists and were successful in dog shows. Arthur (owned by U. Klimashin) was a powerful male with masculine head and wonderful tan. He was widely used for breeding and produced excellent progeny. His best son was an outstanding male Atos (owned by G. Moroz). His pedigree included the leading soviet Dobermann lines of Jim, Goby and Almaz. Arthur possessed a rear for that time complex of qualities – soundness and elegance. Masculine head, high set of the neck,

USSR and Moscow Ch.
Almaz and Vesta

Ch. Atos (at the left) with his son
Ch. Beat Bart
sloping upper line and nicely cut, well-developed chest made him irresistible. Of course I used him for breeding and he left excellent progeny.
     On a par with Atos – my main favorite in the end of 1960s was a brown male Gess (owned by M. Kvasov). In spite of his unideal conformation some of his features could amaze and fill anyone with admiration. Being a descendant of a famous soviet favorite Goby he also had the blood of German Dobermanns Akbar v. Cicilienhof and Dick-Dolf v. Muchlen. That is why he could be easily combined with dams of different blood-lines. He had a very beautiful, long, strong, with good proportions head, strong bones and scarce for that time soundness. Being the Head of the Moscow breeding committee from 1968 I widely used Gess as a sire. Inbred combinations for him were made rather often. We sequentially kept the line of Gess for 15 years and later his line was the basis for the most progressive Russian Dobermann lines. Among his descendants I would like to mention a beauty – Orly and such excellent dams as Yulen-de-Bina, El-Eris and Ilma. All of them were brown as their father Gess. The leading sires of 1970s – beginning of 1980s were his sons – Or-Opal, Aik and his grandsons – Ralf, Roshfor and Bite.
| | | | |
| --- | --- | --- | --- |
| Gess | Orly-Gess's daughter | Rumina-Gess's daughter | |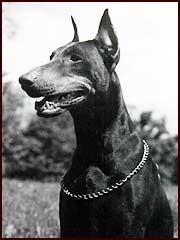 Ch. El-Eris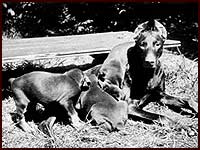 Yulen-de-Bina – Gess's daughter
with her first puppies
     Somewhat specific and honorary place among Gess's sons belonged to а handsome male Aik. His mother Atriks v. Malhover Zee was imported from DDR. She was not very impressing and my acquaintances took her to Gorkiy city with them. We mated her with Gess expecting to get the puppies with high concentration of foreign German blood. We also supposed that Gess will give the puppies his soundness and nobility. Our hopes were fully answered. I delivered to Moscow the best puppy of the litter – brown male Aik. He was a Dobermann number one in Russia for several years. He was above average height, elegant, with very beautiful head, perfect upper line and excellent legs. He kept wonderful condition for many years and died at the age of 15. His owner Vitaliy Nekhaev dedicated a book "Raise a friend for yourself" to Aik. It came out in a 100-thousand run length and actively popularized the breed.
     Actually the only Aik's competitor in show rings was very big and masculine brown mail Ralf. As my opponents reproached me of being too interested in heavy-boned Dobermanns I was afraid to use this colossus for wide breeding. I regretted it later. Ralf turned out to be a very good producer. Existing in the frames of DOSAAF was very burdensome for dog lovers. We had to follow exactly the strict and not always logical rules invented by staying far from kynology retired military offices. That is why we took without any upset the order of 1972 to withdraw Dobermanns and some other breeds out of DOSAAF. It was not easy to create a new kynological structure in Moscow as the city authorities opposed it. There were a Society of Hunters and a Club of Decorative dogs-lovers. Bureaucrats thought that there were enough societies for dog-lovers. Nevertheless some enthusiasts including myself managed to set up the Moscow City Association of Dog Lovers (MGOLS) that still kept breeding commissions in its structure. The owners of bitches still had no right to breed themselves. There were no kennel prefixes as well. Besides there was no practice to give all the puppies of a litter the names beginning with the same letter. I was permanently elected a responsible person for breeding of Dobermanns in Moscow and remained at this post up to 1987 when we created the Club "Zoosfera" under new political conditions.