Irina Kuznetskaya died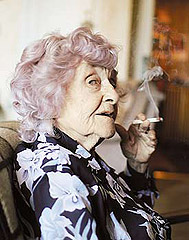 at the end of December 2008 in a circle of friends celebrated her 93rd year of birth Irina L. Kuznetsk. A month later, on January 26, she was gone. Banal idea of ​​"well, lived a long life, everyone would be so" does not occur. She had not become an old woman. And it remained in the memory of many people who knew her well, beautiful woman, lady. It has not been replaced.
Irina L. was remarkably clear and bright person out of a beautiful past – aristocratic, independent in his judgments, but accessible to friends, intelligent and friendly, intelligent and friendly. Its judgments about people and situations at times could be quite tough and uncompromising, but accurate and never offensive. Snub or dashing crony tone could permanently damage her up and forced to avoid new meetings with ill-mannered person.
We are bound by almost fifty-year friendship, however, in spite of the significant age difference, she did not agree categorically call me "you". Well aware of her surroundings, I generally can count on your fingers the names of people to whom she appealed. Sincerely and deeply Irina L. was able to get attached to people longing for the departed, very appreciated friendship. Already dying and partially lost his memory, she suddenly asked me: "How Alexander, as he lives?". It's about A.P.Mazovere. Hearing the negative response, terribly upset and was silent for a long time.
binds she not only to people but also to the dogs. Sixteen years she has lived in the house terrier Dombey unthinkable grouchy character. By the end of lost teeth, he became lame and awkward. Irina L. adjusts his regime to the needs of the harmful old man, I loved him and wondered if someone did not notice its beauty.
The very Irina L. was unusually beautiful and aristocratic. Despite tihost conduct a complete lack of leadership qualities, instantly became the center of attraction in any company. She had impeccable taste, always to the last days, meticulously monitor their appearance. I never saw her without a neat hairstyle, dressed casually.
She did not expect the care of life and did not want to think about old age, any mention of the age met as a faux pas and terribly upset – not for himself, but for who showed lack of tact.
Having a flawless and perfectly adequate wardrobe, she, when she had already exceeded 90, continued to follow the fashion and periodically acquired new clothes. Most recently gladly told me on the phone: "I bought a nice fur coat." Calls generally disliked, feared to be out of place, but very upset when she did not call for a long time. Reproached me: "You have completely forgotten about me, I was bored." I ask, why did not you call, Irina L.? She wondered: "Do you consider that I was a woman?". Reminding that we are friends, and in this case is not so important who the man who a woman, it was useless.
Fans of dogs are very fortunate to have among us lived Irina L. Kuznetsk: it was all a moral tuning fork. It was impossible to close her forget about such concepts as conscience, honor, morality. I do not think she could radically affect the atmosphere, but still brings in her something important.
A couple of times had to hear about it, as a human being unapproachable and even arrogant. Nonsense! Being the undisputed authority in the dog, completely protected by this authority, she always doubted herself. All my life I was afraid to make a mistake in the ring. If you notice someone of his colleagues, watching from ringside for her work, then I approached and asked his opinion on the results of the examination.
Irina L. are surprised at how easily young and inexperienced, and sometimes even very weak judges agree to judge unfamiliar breed of dog.
As well, Irina L. was in our midst, with its unchanged taste and impeccable style that will not interfere even eternal cigarette "White Sea Canal".
I know I wrote an obituary very wrong, but it's the last thing I could do for a beloved friend – proper obituary she would not have been able to endure
.