Doberman IN THE NEW RUSSIA
In the second half of the 80s collapsed iron curtain that separated for decades Russia from the rest of the world. This fact is reflected in the Russian kynology operating without any contact with foreign breeders. We not only have the opportunity to share the puppies with foreign breeders, use Western manufacturers in their selection, but also simply to obtain information about which dogs are bred in other countries.
In the USSR, the public service dog breeding began to take shape in the early 20s as an area of ​​collective creativity. Selection of breeding pairs was carried out by breeders only in the early years of this period, later this crucial moment was the selection carried out by clubs, in which the owners of the dogs entered. Almost every major city in the Soviet Union there was a one club. Club members elected by the Board and that this advice was carried out breeding, selection of pairs, etc. Wishes owner of the female may be accounted for, and could be proignorirovanny. Typically, breeders clubs were chosen from among the most experienced dog handlers. For decades, the unquestioned leader in breeding Dobermans was Moscow.
Occasional post-war period in our country accidentally fell Dobermans of the GDR, Czechoslovakia, Poland, Finland and some other countries. Acquired their inexperienced dog handlers and, as a rule, these dogs are considerably inferior to the quality of our main livestock. But even they were necessary as carriers of new blood and therefore attracted to the selection. If the import of Russian partners and managed to get the puppies at least average quality, they were used quite extensively in the breeding. That is how the ancestors of lines were obtained, John, Jim, Gobi, Diamond, Hess. The most productive and consistent line was created legendary Hess, in whose pedigree in addition to the best Soviet dogs were two males from East Germany – Akbar f.Tsitsilienhof and Dick Dolph f.Muchlen. Typically, the presence of these names in the pedigree causes ease of addition and some choleric. But Hess was radically different from the dogs of this type. He had a long and strong head, strong bones and very deep chest. The corners of his limbs and the top line were not as flawless as the other Russian favorites of the time. Hess distinguished himself as an outstanding manufacturer. His descendants for nearly twenty years played a dominant role in our breeding and show ring decorated. To a large extent they have made the background, which proved to be great in the new era of the manufacturers which have been taken by us from Europe.
"Scheduled" breeding dogs at our circumstances were salutary. After all, in a closed country someone has been taking care of the long term. In the absence of hard and thoughtful control of the breed after 3-4 years of haphazard breeding could be stymied by inbreeding depression: all owners of females would have used the same two or three best males. And hope to get new products from abroad with a "fresh" pedigree, capable also to adjust the existing type, it was not.
Looking back, I can easily remember a lot of Russian Dobermann, for which we would not be ashamed, and now, despite the fact that they differ markedly from those dogs that are now conquering the show ring. In 1971 in Budapest hosted the World Hunting Exhibition, which included the World Dog Show. It is possible that it is not attended by leading European nurseries, but it also exhibits from different countries was very high. Suddenly slightly opened at once the curtain for us leadership of the USSR and of the Soviet Union five dogs together with their owners have been sent to Hungary. Apart from them in the exhibition was attended by Polish and Hungarian Idtsi Doberman dog Nicky – both of them were born in Moscow. All these dogs are taken in rings prizes and littermates Idtsi and Idiya win.
With the coming to power of Mikhail Gorbachev, the situation has changed. From now on, every city can open any number of clubs had independent breeding program. The biggest club was to unite "Zoosfera", in which the owners came and Dobermans. For several years, in fact it was a single collective kennel, from which later spun off and became independent nurseries "iz Zoosfery", "Smart Wood Hills", "S'Lichobor", "Irinland" "Golden Dynasty", "Star of the guards," and pl. etc.
The turning point for us was to take part in the World Championships, held in 1990 in Brno (Czechoslovakia). We came to this exhibition is quite a large company. The first Dobermans, we faced the entrance to the exhibition hall were v.Harro's Baron Bryan Berg, Count Quirinus v.Niirlands Stam, Hilo Royal Bell, Lady Levin v.Rovelin. Shock – the best word to describe our experience. Each of these dogs staggering. But to see these delightful dogs at once and together – a great test. The head came hurtful thought: "If it Dobermans, whom we breed?". No, our Dobermans were not bad. They had a harmonious addition, it is very beautiful and precise silhouette line, excellent angulation and differed excellent health – survived mostly to 13-14 years. But compared with the best European dogs they looked lighter, with a relatively thin bone structure, weak chins and a light tan.
It took us some time to reflect on these differences and to begin a new stage of selection. The Russian Dobermann lovers had a good canine school. Our teachers are very experienced professionals, who at one time studied with the best German judges V.Klodta, E.Baumana, E.Otto. Traditionally, Russia, unlike in many other countries – open discussion of selection methods, examination techniques and its results published in the literature dog expert debates. At times, this creates difficulties in relations between people, but also helps to better understand the processes occurring in the dog breeding. We eagerly pounced on the book D. E City of Tshwane Metropolitan Municipality, G.Shullera and other literature that has become available to us. With the help of books and to communicate openly with the best western breeders and judges, study their experience, we were able to organize the import of puppies thoughtful, began regularly to knit our females with leading Western manufacturers.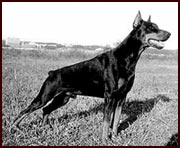 Champion
Melwas Muro f.Birkenhayn
The very first imported from Europe Puppies strongly influenced the old type of Russian Dobermann. The most important role in a decisive change in the face of our population played Melwas Muro f.Birkenhayn brought from Switzerland. All that was missing our dogs he had, excellent substance, beautiful masculine head, beautiful color. His pedigree was the most full of the descendants of the famous "V" -litter Dutch kennel "f. Frankenhorst". Within three generations met twice Vivr Vivienne, and besides her Vitesse and Vincent. A distinct type Melwas Muro and this concentrated pedigree were promising. Expectations were met in full. Melwas Muro – became the ancestor of the new line was very popular as a producer, has left more than 1000 puppies a completely new type for us. Sometimes at the largest exhibitions in Russia in almost all classes of his children were in the lead.

International Champion
Quinn de Gor

Champion IDC
International Champion
S'Lichobor Phantom
Almost every one of his litter born champions. Many of them have been used for breeding. His daughter almost any combination gave very high-quality offspring. A special role in the post-perestroika Russian breeding owned by his daughters from the excellent Yugoslav females Ami Cobra. Two of them – Quin de Gor and Crata de Gor became very strong foundation for nurseries "Smart Wood Hills" and "S'Lishobor". Through them, we are very well received puppies zainbridirovannyh on Arrow v.Harro's Berg. The positive impact of these combinations we fully observe even today, many years later.
The kennel "S'Lichobor", which received a lot of first-class dogs, gained international fame thanks to the winner IDC C 'Likhobory Phantom.
Stable operating kennel "Smart Wood Hills" annually puts on various exhibitions excellent and same type of livestock. Not only in Russia but also in several other countries in the dog kennel, have influenced national selection. As an example, I could mention Sweden, Norway and Finland.

Champion
Utah Deborah Play

European champion
International Champion
Golden Dynasty Susana
Some role in shaping the future of this progressive line played and the World Mora f. Birkenhayn, sister Melwas Muro. Unfortunately, she was able to get by only one litter, inbred on Felo f. Frankenhorst. Star of this litter has become a very beautiful female Utah Deborah Play. Mated to Gamon she gave a magnificent litter, including the amazing Golden Dynasty Susanna, totally won at Russian exhibitions and became the champion of Europe.
Following the Melwas Muro and his sister Dobermans dozens of different countries were brought to Russia. Among them were a dog and a very high level and medium. Some of them have become influential manufacturers, but their share has not had the role of the reformers of the Russian population. Even the best of their descendants, to lead in the show rings, nobody do not hit as children Melwas Muro, as the rest of the dogs in the ring this time were good and modern type.
The most popular manufacturers after the legendary Melwas Muro steel imported from France – Irinus de Ferin, Germany – Igor f.Merhengarten from Holland – Earl Quinton v.Niirlands Stam from Hungary – Tahi-Reme Ksar
.

International Champion
Irinus de Ferin

2xChampion Europe
International Champion
Count Quinton v.Niirlands Stam

International Champion
Tahi-Reme Ksar
The most widely used of these Tahi-Reme Ksara – medium height with a very strong bone, excellent topline, deep chest. escortnavi. His head was too heavy and the neck short. At the exhibitions he had sustained success and his Russian fans fell in love with the breed. In general, he left a good and numerous offspring, but especially striking is following him did not work.
The sons of Quirinus – Irinus de Feren and Igor f.Merhengarten – arrived in Moscow almost simultaneously. Their fate was different.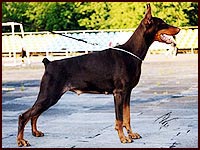 Champion IDC
Rensdorff Amaridzh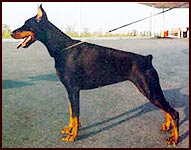 International Champion
Ravioli Zoosfery
Thanks to the great campaign, organized by the owner Irinusa, he gained worldwide popularity and has been used as a producer not only in Russia but also abroad. Among his Russian children, I would pick the daughters Blanche and Bayan. His grandchildren are now playing in Russia a much greater role in breeding than his sons and daughters in his time. Igor f. Merhengarten – compact, sturdy dog ​​with a beautiful silhouette and not very successful head was used significantly less, but left a smooth and high-quality offspring. Its very beautiful daughter Modus Ost Tsertseya Tseya successfully exhibited at many major exhibitions, and brown granddaughter Rensdorff Amaridzh IDC became the winner.
Count Quinton v.Niirlands Stam was large, elegant, masculine, well-balanced dog with a regal bearing and a great temperament. He immediately became a favorite of the most important exhibitions, twice won the European Championships, became the champion of 11 countries regularly became the winner of Best in Show in the different countries. By the end of his legendary show and breeding career, he was officially recognized in Russia the best dog of the 10th anniversary of all breeds. Already magnificent puppies (- Ami Cobra mother) were born in the first litter by Graaf Quinton. They are highly appreciated by many experts. But a major contribution to the development of the Russian population has made the most modest of these legend, with which actually became famous for the best kennel of St. Petersburg "St. KREAL". Of Legends, in particular, he was born the young world champion Sant KREAL Nivago manufacturer of extra-class.

Junior World
International Champion
Sant KREAL Nivago

International Champion
Smart Wood Hills Isadora

International Champion
Smart Wood Hills Inton Archie

Champion
Gretchen iz Zoosfery
Among the most famous children Graaf Quinton I would call the Smart Wood Hills Isadore Grace iz Zoosfery, Gretchen iz Zoosfery, Smart Wood Hills Intona Archie. Selection of females to Graaf Quinton, usually does not cause difficulties for breeders. With a strong personality, a conservative heredity and without significant drawbacks, he managed to leave quite a large group of the same dogs with aristocratic appearance, beautiful topline, flawless cereals and good angulation.

Vice-Champion of the World
International Champion
Muve Mufasa-de-Camp sic

World Champion
International Champion
Margot de Stan-sic

International Champion
Mo de Stan-sic
Ten years ago in Moscow were brought from France, three puppies from the Countess Nora v.Niirlands Stam and Gamon di Campovalano – Muve-Mufasa, Margot, Mo de Stan-sic. They all had a brilliant show career: Margo became world champion, Muve-Mufasa – Vice-champion of the world, and Mo – the champion of the six countries. Margo gave three litters, the most successful of them with Gino Gomez del Chiton. Here I was born some very good dogs, including IDC and World Champion Zara Irinland Zeif. Muve-Mufasa was more successful in the ring than as breeding dogs.

Vice-Champion EROPA, World
Junior European Champion
International Champion
Nestor of Zoosfery

International Champion
BMW Bavaria iz Zoosfery

International Champion
Sharon iz Zoosfery
Of great importance today to the Russian selection Dobermans have offspring Mo. Mainly we are talking about such famous dogs as the Nestor iz Zoosfery, BMW Bavaria iz Zoosfery Sharon iz Zoosfery.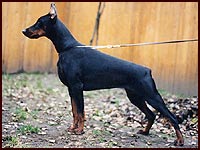 Champion
Indira vd Roybehole
The Russian fans of the breed is not passed such a great dog like Nemesis Fiji f.Kepsel produced in the German kennel "vd Roybehole". In Moscow it was brought to her three daughters from different litters – Indira, Kaprisskoko, Mirakel. All three of them have left an imprint on the Russian selection. From Indira came into being such outstanding dogs as Tiger, Tamerlane, Queen of clubs and Taisiya of Glorious Pack, as well as Prince and the Queen of the Pack and Glorious Rssiyssky coloring Arbat Aldo. Offspring of these dogs has an impact not only on the Russian breeding, but also in the selection of many other countries.
Kaprisskoko became the founder of the Moscow Kennel Modus Ost, who became famous thanks to such wonderful dogs like Vira virtual, Ezra Erg and Modus Ost Aviator Ace (he is not a descendant of Kaprisskoko).
And in the nursery of the House Domeni born beautiful sons Mirakel – Pimm's Namber Ouen and Punch
.

International Champion
Tiger of the Glorious Stai

International Champion
Tamerlane from Glorious Stai

Champion IDC
International Champion
Queen of clubs from the Glorious Stai

International Champion
Taisiya of Glorious Stai
Brought us from Germany Bombastik f. Hanzeaten used, unfortunately, for a short time, but also left a number of descendants of the great in many Russian and foreign nurseries.
In recent years, announced himself and Russian kennel "Eria Pro", which was born already many notable dogs, among which the IDC Kimberly Crystal winner.

International Champion
Pimm's Namber Ouen from the House Domeni

Champion IDC
International Champion
Bombastik f. Hanzeaten

International Champion
Modus Ost Vira VIRTUAL

Champion IDC
Eria Pro Kimberly Crystal
Russian breeders are great enthusiasts. For the results of breeding in recent years, which is now widely known in the world, they had to overcome extraordinary obstacles. They carefully study the results of their Western counterparts and continue to regularly use the best western producers no matter how far they may be from Russia. Today our pedigree Dobermann is virtually identical to recruit well-known names from the Western dogs pedigrees. But now more and more of our dogs are becoming attractive for western counterparts since they retain a certain positive originality. At the top of our dogs are long and expressive head, beautiful topline with very high withers, solid silhouette, balanced temperament. They are easily trained in the hands of experienced trainers and tested breeding tests without too much difficulty. At this year's IDC Championship runner-up training was our Gelo Robis Golden.
Changes in economic circumstances in Russia over the past ten 1.5 is not so radical, so that all our leading breeders to participate in major European exhibitions, so our foreign colleagues is not fully represent the current state of Russian population Dobermans. But we are optimistic and hopeful about the future.
(This article was published in English in the Dutch edition of "The World of Dobermanns in 2004")