Communication lesson
After the eighth grade, I moved to the "evening" school. Finals already gave on his return from the army. I'm sick of physics and chemistry, but before the exams and I was going for 7-8 days read all the textbooks from the fifth to the tenth grade. I passed the exam quite easily.
At the same time I was getting ready to enter the GITIS teatrovedchesky Department did, however, partly through connections. Engaged carefully and intended to act like everyone else. Even the thought had not occurred to turn to someone for help. Became friends with several children-entrants and with them sat down at the book. The company turned out to ten people. We read something retold to each other, managed to run a few plays. The most dangerous test for admission to GITIS – interview, colloquium, after which allow or not allow the rest of the exams. More to the point it became clear that the head of the colloquium Professor A.I.Gusev. I was immediately warned: "Gusev no Jew will be held You can not rock the boat.".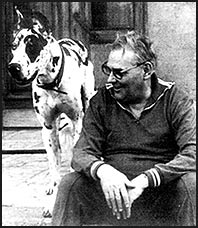 E.V.Vuchetich with his dozhonkom Earl
At the time I was closely associated with the famous Soviet sculptor EV Vuchetich. It was the all-powerful person, one phone call he could solve any problem. I told him about the problem of Gusev.
        
– Oh, it's the one that was the chief of the Arts Committee. I know. I will call you. When I dial the number.

        

– Andrey, good afternoon. Vucetich concerned. So … will come to you boy – Rosenberg. Although he and the Jew, but the guy – a good

.
There has come day of the interview. The contest was, among other things, terrible – a crowd of applicants for one seat. Large audience. Against the far wall of the table sat a few professors, and in the middle of the hall chair for the entrant. Examiners from across the room asking questions. I talked with me only Gusev. He came out from behind his desk, walked around me and stood behind him, put his hands on my shoulders and began to ask questions. First, on the theme of art. And then about my work. After the army and before entering GITIS year I worked as head of the nursery service dog.
        
– a dog, then do. I also have a dog at home. Newfoundland. Yes, yes.
And he began to inquire in detail about the dogs. I feel embarrassed to engage in dog-breeding business was considered undignified in those years. We talked about it. Suddenly he squeezed my shoulders:
        
– Maybe that's enough about dogs

?
That's it! He imposed himself talk, and I was just painfully tried to finish it, knowing full well that this topic can not be the target of the interview.
Then Gusev at all asks:
        
– How do you know Vucetic?
I do not remember his answer, but he did not say that our relations are associated with dogs.
In fact, I have to train a dog Vucetic, and we met it was on this basis. His wife Vera Vladimirovna was surprised: "You know, Jack, I'm Evgeny live many years, and you are the first person with whom he had so long maintains good relations." However, our friendship was broken pretty soon after this conversation.
There was a dozhatnik – Oleg Bochkov, and he decided to breed your female with a male dog Eugene. Do not become a pre-call, negotiate, and immediately came to the sculptor. Vucetic was wary man. Another servant this day was demoted and the gate was opened by the host. He met Bochkova with a gun in his hand. Holding him at gunpoint, he called me:
        
– You know this Bochkova

.         

– Yes, I know, – Oleg

.
Then he lowered the gun, but talk to him did not want to. He said that no cases will not have with him and pointed to the door. By Vucetic it was not so easy to get there. He lived quite closed behind a high fence on Timiryazevskaya Street (now a street named after him). In the yard built a large house with Doric columns, with a pond, a unique stone table at the stumps and the same benches and put out a lot of small copies of his monumental sculptures.
After some time at the request of Bochkova I had a conversation with Vuchetich, and I urged him to tie the Count (the name of his dog) with a female Oleg.
        
– Why do I need it

?         

– Well, you do not need a stud dog need. Let povyazhet.

        

– Not in my house. I see this type of here I do not.
In short, tied on the side of the alimentary puppy.
In this period Vucetic worked on the sculptural portrait Defense Minister Marshal Grechko. He argued that in such a manner masters worked only in ancient Rome: the substrate is applied by electroplating silver and silver – gold. He prepared two gold head. One – for the museum, and the second – in person to Grechko.
there was a shortage of gold jewelry in the country. They are sold only by the bride and groom help. Vucetich did not live a normal life. Cash he had many, but the existence of some restrictions, he had no idea.
        
– Come with me, Eugene G. (he appealed to all only by name and patronymic), I have to buy a lot of the Rings

.
We arrived in nearby bridal shop opposite the cinema "Relay". The saleswoman, hearing request, opened her eyes wide. He showed her ID. And she what? It is likely and such a name never heard. I thought he was crazy, especially since he had a tic. When nervous, facial muscles suddenly started to twitch, he cried, sharply cast head. Rings we do not sell, and we moved to the director. Director of a woman with the same frightened eyes. This time Vucetic presented in detail, said that he is the author of Mamayev Kurgan and the memorial complex in Volgograd, a monument to Dzerzhinsky, he explained why the ring. However, the director said:
        
– I have no right. We need special orders.
Vucetic, barely restraining himself, asked for the phone and dialed the number M.A.Suslova Politburo member.
        
– Mikhail, here I am in the store. Dura-old woman, the headmistress (is it when it says), does not sell the ring.
then handed the phone completely terrified aunt. Suslov something they ordered, she took "under the hood" and we got the ring.
But back to the mastiff. Shortly before these events I saw marble Earl Marshal Grechko and wanted a puppy. When the puppies were born, Vucetic said to me:
        
– help to choose? Grechko wants the same as the Count.
In a litter of 5 pups. One of them – a marble kobelek, the rest black. At the moment when it is time to choose and pick up a puppy, Vucetich went to Sochi, as there was Grechko, and it was necessary to finish the job with him. Before leaving, I asked to pick a puppy from a breeder, definitely better.
For those just to bring a puppy, he could send anyone from the attendants. As I understand it, my canine required skills. I come. One puppy is not, based on three zdorovuschih thick black puppy and one marble, perfect scallywag and yells all the time. I chose a nice black dozhonka. I brought home. A few hours later a call from Sochi.
        
– Eugene G., what puppies

?         

– Yes, he took great black …
There was a terrible mat. But we had a very good relationship. To each other on birthdays come. I was pretty impressionable young men, did not expect this and was upset. Listened and said:
        
– No problem. If you want to order marble puppy, I'll go and change. You should not so dispersed.
I warn Oleg, take a taxi and going to it with a black puppy. It's only been a few hours. Neither Oleg no home, no marble zadohlika. Waiting. Two hours later, Oleg called.
        
– Oh, and I sold it.

        

– Where? Who?

        

– On the "bird market"

.         

– Oleg, twice as many give money to the buyer, let him return the puppy.

        

– No, it is sold to Vladivostok

.         

– Let's address, I'll go.

        

– Oh, I was not given the address

.
All this I reported Vucetic. After listening, he said:
        
– shove this black itself in w ..

!
He added:
        
– I'll do a lot of good, but it can do more harm. He suspected me in some conspiracy with Bochkov.
What can I say? Of course, GITIS I went through his patronage. During the interview Gusev gave me a "three" but "four" had only two entrants: vice-rector of the Institute's nephew, and the second – just fallen joithead who acted under the order, because it was out of the working environment. xgeneve The rest of the exams I passed independently and successfully. Vucetich harm me not. And I got a lesson in communication with the great.
This story was published in the journal "If you have a dog" (№ 5-17, 2006 g.)