CACIB-exhibition "Nordic Winner" (Nordic Championship)
10-11 December 2011. Stockholm (Sweden)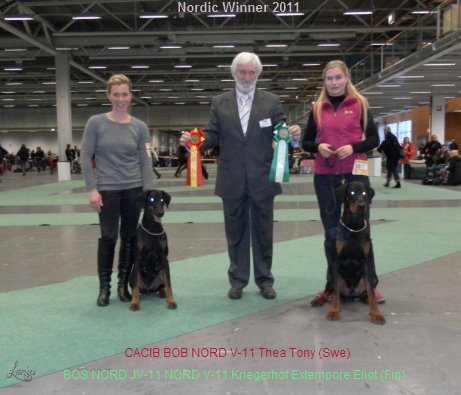 The exhibition "Nordis Winner» is held once every four years, in each of the countries included in the Kennel Union of the Nordic countries and is a very important event to which, respectively, are dog handlers in Denmark, Sweden, Norway and Finland, and all those who are willing to their visits. This year the exhibition is dedicated to the 100th anniversary of the International Canine Federation, and was carried out with a special scale and even intellectually restrained style. Registered on it about 8500 dogs, judged them more than 50 well-known experts from Sweden, Denmark, USA, UK, Norway, Italy, Finland, Austria, Spain, Portugal, Holland, Ireland. Eastern Europe was represented by a judge (one) from Hungary, Poland, Slovenia and Russia.
I have often judged the dogs in Sweden (3 times this year alone), was here in exhibitions as an exhibitor, including the World Championship – always local exhibition left wonderful memories, but this time the Swedes have surpassed all the best expectations. They are perfectly prepared: thought out to the smallest detail all the details, the information was comprehensive and very clear, no hitches. A huge number of spectators and breeders got obvious pleasure, rapidly, almost like a football match, expressing approval fervently congratulated the winners, very cute thank the judges – not one dissatisfied person
.
I was asked to judge the 4 species – bull terriers, miniature bull terrier, Yorkshire (first day) and Dobermans – on the second day.
Registered 76 Dobermans mainly from Sweden, Finland and Norway. Even the most cursory glance they seemed large, powerful, with a good horse. In the course of examination, however, not so dogs met infrequently with little weak jaws and roundish croup. Unimportant movements were in a relatively small number of artifacts, which is nice I was surprised, because I still remember about our dogs at the recent Moscow mono-breed show in early November.
Among those who I particularly remember were several dogs of extreme type – tall and very powerful. Thus, the addition of capital impressed me very krepkokostny, deep, compact and smart with a very masculine head and sufficiently dry lips shestnadtsatimesyachny male Extempore Eliot was born in Kriegerhof wonderful Finnish kennel from two Russian dogs – PRIDE OF RUSSIA Caspian and Smart Wood Hills Roma Raviol. World Champion in the first litter has proved that she is not only beautiful, but also a great proizvoditelnitsa. Eliot was not only the Best male junior, but in the final competition of males also took first place. Studying directory already in the hotel room after the end of the exhibition increased my pleasure: Eliot turned grandson belonged to me Livoniasa Baron Hieronymus Gero (ics) and the Euro Speakers iz Zoosfery
.
Perhaps, if not for his young age, I did not hesitate to assign him the title of Best of Breed. I do not do it just because the physical evolution of such a powerful dogs can go in the direction of the further formation of the integrity and greater dryness, as well as in the direction of some form of roughening. We have to wait a year.
Perhaps it is the maximum power on the verge of busting a very beautiful winner of champion class Beckers Mistique v. Nobel Line (Terror Lewan vom Jahrestal x Kriegerhof Odessa) made me a little to temper your enthusiasm and put it in the final comparison of the best females in second place. This lush beauty was also the granddaughter of Hieronymus, and through his mother, it goes back to our dogs.
Best of Breed I called who was born in Serbia, sophisticated, tall, with a noble bearing, accentuated vysokopereduyu with an impeccably precise and smooth lines top and bottom perfectly angulated hindquarters, strong and light movements, long elegant neck and beautiful feminine head thea Tony (Leo vom Markichen Land x Fiene). She was strikingly different from the rest of the dog show, had a moderately deep chest, and I was afraid that I would not be understood by some lovers of the breed, because this dog is "only" embodied the elegance and harmony, that is, those qualities are not especially striking. But I was wrong: the audience enthusiastically greeted the new Winner of the Nordic Championship
.
A couple of words about other worthy participants of the exhibition.
Do not radically inferior to its own advantages Best Male exhibitions of his own age in the junior class Jean Dark Paradox (Jean Dark Incanto x Smart Wood Hills Vivr-Vivien).
In a class of Champions, I easily found a wonderful brown offspring of our Nestor won me a couple of years ago in Sweden Jean Dark Grabazzi (Jean Dark Yang x TSW L 'Oréal). In the seventh year of his life he also looks noble, did not lose his head attractiveness strong and powerful modeling with an intelligent look in his eyes, but his back almost imperceptibly passed, and the movements were not as supple and elastic. As a result, this gave way to a mature handsome (not without my doubts) full powers and more elegant vysokoperedomu young opponent Dobergaarden Forever Boy (Ale Alamos Del Citone x Fortuna Di Altobello). In the final competition of dogs, he took second place, and since the 1st junior went to him as an adult moved the title CACIB.
In the intermediate class females hard-fought for the first place two beautiful brown females. Hard won by medium-sized, proportioned and compact, with a sufficiently noble head Kriegerhof Duchesse d'Ebony (Dragos il Divo x Kriegerhof Sienna). Very advancing on her tall heels, slightly elongated format mighty Ebony v. Nobel Line (Maxim Di Altobello x Giorgia Di Altobella). She would have been easier to win major victory when a strong and short back.
In the champion class females shone not only his amazing winner, which I have already written in the beginning, but several other dogs of excellent. Reserve a victory here was in okay folded, strong, dry, with excellent riding, deep and broad chest, a beautiful head and a proud carriage, which I had not noticed her at a different Handling Smart Wood Hills Uma (Pathos Delle Querce Nere x TSW Beretta). In a strong final competition females (it was attended by about 10 dogs from different classes) it took third place.
Pleased and females veterans – all four in great shape. It can be won and not the breed from them, but keep it in 9 years of impeccable shape and excellent movement medium-sized and compact Jean Dark Attitude (Jean Dark Kalvin-Klein x Nonchalance vom Gebranten Walde). Excellent appeared and Kriegerhof Khloe-Kalina (Smart Wood Hills Elisir x Stroll's Zoe Zarina) – second place
.
The final part of the exhibition – Best-in_Shou, including a number of fun, inventive and energetic, quick demonstrations of dogs, competition for young and very professionally run handler and actually FCI group placement was perfect srezhessirovany: music, commentary, lighting, decoration , prizes, staging – all 5
.