Austrian holidays
This year marks 100 years of the Austrian Kennel Union. This event was dedicated to three CACIB-exhibition held 21-23 August 2009 in the small town of Wels. There is a magnificent exhibition center with a large, bright pavilions. Rings were quite spacious, covered entirely with respect to non-slip carpet. Expert assistants worked well and dexterously. All three experts appointed by the judge Dobermans are well known.
On the first day of the examination was conducted by the Austrian breed lovers patriotic and benevolent to all Inge Ebershtaller in a pretty national costume. It acted slowly, carefully describes each dog several times watched her movements, tried to explain the reasons setups.

Israphel
Abe Atentator

Grand Cherokee Challenger
The composition exhibited Dobermann was good, but not too dangerous for Russian dogs brought from Moscow exhibitions. He looked great in the ring brown Muscovite Israphel Abe Atentator (Patos dividing Quercia Nera x Israphel Maya di Altobello) – sturdy compact body with a cast, great riding, free movements. Among the brown dog that was not enough, the opponents had not been observed. In his class, he received the Austrian SAS (Sasa), and then in the final comparison of all males-class winner – reserve CACIB. Brown Grand Cherokee Challenger (S'Lichobor Ermak's Salome Streygezer), compact, very strong with moderate angulation earned a "very good". The judge noted in her opinion gruff head. Generally this remark Ms Ebershtaller used quite widely, and it seemed to me that she prefers it legkovat heads.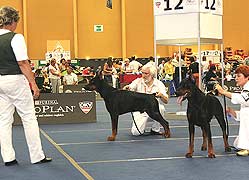 The drive ring and Ermak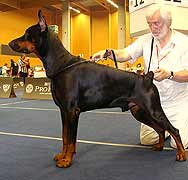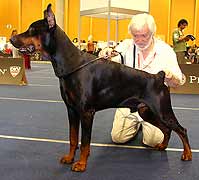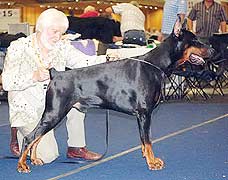 Drive iz Zoosfery
In the working class there were two of our black males – S'Lichobor Ermak (Nestor iz Zoosfery S'Lichobor x Cherry) and drive iz Zoosfery (Master Of Max Dzharmati x BMW Bavaria iz Zoosfery), who looked well and, in my opinion It was the best black dog show.
At first the judge chose Ermak and gave him CAC, the second, with redundant SAS supplied drive. At Ermak noted too heavy a head, and at's Drive encountered a problem with the front paw, which astonished me. Unfortunately, this same claim in his paw expressed later in the rest of the exhibitions and G.Vibliskhauzer H.Klibenshtayn. Only after the third of such remarks, I take a closer look at the right front paw drive and, indeed, discovered that his fingers badly swollen and the skin had small cracks. The landlady's Drive aware of this newly emerging problem, but forgot to warn me. However, the quality of the motion drive and its overall appearance is not reflected.
| | | |
| --- | --- | --- |
| Chagall Best of Milano | | Juanita de Perlanera |
Choosing the best dog lasted painfully long, and so the result seemed particularly surprising: the Austrian won the male Chagall Best of Milano (Eko Royal Bell x Andorra background Cobra) with softly pronounced advantages, but with very noticeable sagging riding. On these two exhibitions, the experts rated it much more modest.
All Moscow females were excellent.
On the first day of the rest productively acted Thais iz Zoosfery (Nestor iz Zoosfery x Electra iz Zoosfery) It is wonderful and catchy show different harmony of strength and elegance, high expression in the rack and movements. In the open class won first place, and then became a reserve CACIB, behind the main title refined, with chiseled silhouette, but a little too narrow and not too krepkokostnoy Hungarian female, regulars local exhibitions Juan de Perlanera (Tahi-Reme Romeo x Honey Bay Free Half) . However, the beauty of Juanita when choosing a Best of Breed had to give a much more humble dog is involved.

PRIDE OF RUSSIA Philadelphia
and Rachel iz Zoosfery

Rachel iz Zoosfery
In a class of champions two Muscovites met – very tight, with the most pronounced, like his mother, forechest, great temperament, strong head and a little roundish back to Pride of Rush Philadelphia (Urbano del Diamante Nero x Sharon iz Zoosfery) and Rachel iz Zoosfery (Baron Livoniyas Gero Hieronymus x Magro iz Zoosfery) – vysokoperedaya with very sharp silhouette excellent and wide angle rear lightly. Philadelphia won the class.
The most dangerous rival of our black females exhibited in the working class – Carmen Cara Ginga House (Fedor del Nasi x Inca Ginga House) – a tall, vysokoperedaya, muscular, with a long neck and a strong and expressive head. Her movements lacked a bit of latitude and freedom. In this class, it is easy to lead, but Juanita and Thais continue it is not missed. Если вы хотите испытать новые эмоции и ощущения от секса, то лучше всего выбирать транса в Казани на этом сайте https://kzngirls.club/transsesualki . Здесь разместили свои анкеты очаровательные транссексуалки, которые готовы на самые безумные эксперименты.
But at the next show with a magnificent status – Championship of Central and Eastern Europe – Carmen took everything CACIB, BOB. I judged the championship Hans Vibliskhauzer. He worked in his usual style – fast, relaxed, well, assessing the dog in basic, ignoring the little things. Naturally, he did not forget about strategy and a little dabble in politics in the ring. In his champion class paw did not prevent drive to take first place and beat yesterday BOB Chagall Best of Milano. Well, with the final choice of best dog remembered him slightly swollen paw … Won a major title a good dog, but still not a great hero Carlos von Milano Home (Adamant de Grande Vinko's Angela von Cobra), bypassed in his working class Ermak. But BOB Vibliskhauzer chose, of course, female Carmen Cara Ginga House ..
Reserve CACIB Championship of Central and Eastern Europe was the winner of the open class Tahi-Reme Zordon (Nitro Delrio Bianco x Tahi-Reme Giovanna). All three days of this spectacular dog became the winner of the class, but the high reserve title was only under Vibliskhauzerom, do not attach too much importance to a couple of extra centimeters long and a few too narrow chest of the males.
Brown Grand Cherokee Challenger in open class was rated much higher than the day before – CAC. And in a brown champion class won undoubted real leader Israphel Abe Atentator.
| | |
| --- | --- |
| Carlos von Milano Home | Akira von Milano Home |
Very nice were brown winner classes – a tall, powerful and spectacular with perfect riding Akira von Milano Home (Master Max Of Dzharmati x Angela von Cobra) of the working class and the Polish female Ciara Elite House (Pimmz Namber Ouen from the House Domeni x Yalla of Glorious Stai) – of medium height, with a beautiful feminine head
. Our Rachelle CAC in open class – then the judge would not let her, although females competition it always attracted the eyes not only of the public but also the expert. Thais in class champions lost to Philadelphia.
The final exhibition judged far from any policy related to Dobermans, Judge olraunder of Germany Horst Klibenshtayn. Traditionally focusing on paw swelling Drive, and very much appreciated it as a whole, Klibenshtayn put it in second place in the working class, given to the first winner of yesterday Carlos von Milano Home, but further promote it did not.
The winner of the open class brown male became Israphel Abe Atentator, and in the champion class, this time led strong with a strong and collected the body and a simple head Niels Count Of Mont-Zha-Me (Tahi-Reme Diablo's Decanter Sibel Gimont Of Mont-Zha-Me ). Probably a great temperament and the temperament of the dog handler was impressed by the judge – in addition to the result of the dog CAC and reserve CACIB acknowledged
.
But really CACIB on this day went to the winner of champion class (this class was yesterday and Best Male Chagall Best of Milano) Muscovite capital and whole S'Lichobor Ermak.
Thais easily won the title CAC in the open class.
Class black females-headed champions iz Zoosfery Rachel, her stood a great Polish female Tiro Vento Mexicana (Sant KREAL Rembrandt's Hasim with paddock) and PRIDE OF RUSSIA Philadelphia.
The final contest females in the ring includes black and brown victorious classes, of which the most distinguished Thais iz Zoosfery (open class), Carmen Cara Ginga House (the working class), Rachel iz Zoosfery (champion class), Akira von Milano Home (working class , brown), Ciara Elite House (champion class, brown).
Thais behaved too temperamental, the most harnessed in the chain, rested with excessive force in the carpet and continuously slipped (the owner showed because of the ring restless zeal and was very close), perfectly shows Carmen and Akira modestly stood aside with his mistress Rachel . However, it was difficult, she won the competition. Reserve a title taken away from the last exhibition yesterday BOB Carmen.
Comparing Ermak and Rachel, the expert chosen Best of breed female. She entered the final balance of huge 2nd FCI group on the main show ring.
For me personally, the last of the three exhibitions was the most important because of the fact that at first I had previously expected encounter with the local patriotism, for the second assumed a strategic position Vibliskhauzera and third umpire judged as seen, without any overtones – the most profitable for my dogs situation.

Anya Abramenkova
with prizes Rachel

Tatiana Pitsik
to Drive

Thais
The trip to Austria, this time was not particularly difficult for us. We flew an airplane, paying a symbolic sum of dogs (on the way back with us at all for the dogs for some reason, did not take the money). Move around the country freely, hiring a decent fee for a big car at the airport of Vienna.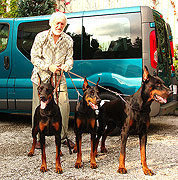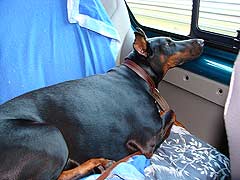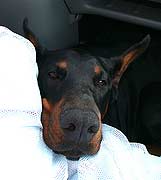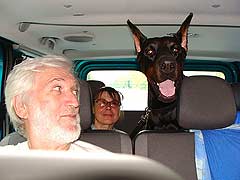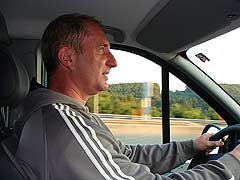 Getting off the plane, we immediately plunged into a rented car for 4 days
and quite comfortably moved to the city of Wels
The modest and not too comfortable hotel is very close to the exhibition. The company was pleasant and the beer excellent. At the exhibition I met up with his old friend Nicholas Anoshko living and working for many years in Austria, in Switzerland. It was he who was once at my request, I have acquired for us in Austria Castel, and then in Switzerland Melwas f.Birkenhayn Muro and his sister Maura World. He knows the country understands what restaurant is worth a visit and we spent a wonderful evening – do not drink beer, terrific local wine of his choice.

The hotel is modest,
but our girls like

Coffee company owns
nearly my namesake